lobal Table Linens
Distinctive table linens with global inspiration dress your table or buffet in creative style. Select from unusual and handcrafted pieces. Go to: Elrene Table Linens, Laural Home Chilewich, Kassatex Table Linens, Casual Table Linens
| | | |
| --- | --- | --- |
| | | |
| Elrene Denley Stripe Table Linen Collection | Elrene Caiden Elegance Damask Collection | Barcelona Table Linen Collection |
| Solid colored striped microfiber table linens. Available in 5 colors. Easy Care Dual Action Finish: Stain/Water Resistant Polyester. Machine washable | The Caiden Elegance Damask Collection features a delicately woven jacquard damask design giving it the versatility of a solid, with a touch of fashion. Fabric features water and stain repellent finish. | The Barcelona Damask table linens collection features a regal damask design in eight different rich, solid colors. 100% Polyester. Machine wash and dry. Made in China. |
| | | |
| --- | --- | --- |
| | | |
| Elegant Woven Leaves Collection | Harvest Fest Tablecloth Collection | Autumn Leaves Collection |
| The Elegant Woven Leaves collection is the perfect solution to your decorating and table linen needs. Delicately woven jacquard leaf design gives it the versatility of a solid, with a touch of seasonal fashion. Excellent for special occasions, events, parties, fall gatherings and everyday use this table cloth has the soft hand of an ordinary tablecloth, with the added function you need. | Printed watercolor leaves tossed on our easy car polyester tablecloth make this the perfect style for both Thanksgiving and all Autumn long. Machine Washable, 100% Polyester. | The Autumn Leaves collection is the perfect solution to your seasonal decorating needs. Harvest design features fallen fall leaves in orange, red, green and yellow on a cream ground. Excellent for special occasions, events, parties, family gatherings and everyday use during fall |
| | | |
| --- | --- | --- |
| | | |
| Elrene Poinsettia Damask Collection | Holly Traditions Collection | Santa's Snowy Sleighride Collection |
| The Poinsettia Elegance Woven collection is the perfect solution to your decorating and table linen needs. Delicately woven jacquard poinsettia design gives it the versatility of a solid, with a touch of fashion. Excellent for special occasions, events, and everyday use during the holiday season. | The Holly Traditions collection is the perfect solution to your seasonal decorating needs. Double border holiday design features gorgeous holly leaves, berries and bows in red and green. Excellent for special occasions, events, parties, and everyday use during the holiday season. | The Santa's Snowy Sleighride tablecloth is the perfect solution to your seasonal decorating needs. Double border holiday design features Christmas trees in the snow with Santa and reindeer riding above. |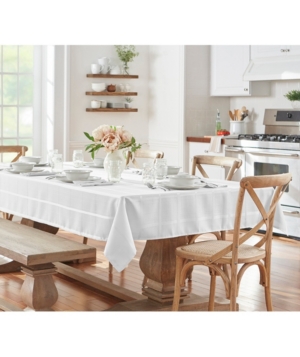 Elrene Plaid Table Linen Collection
The Elegance Plaid table linens collection features a solid plaid pattern and is available in seven colors: Beige, Black, Blue Shadow, Holly Green, Poinsettia Red, Ribbon Gold and White. 100% Polyester. Machine wash and dry.
| | | |
| --- | --- | --- |
| | | |
| Cool Autumn Collection | Laural Home Palermo Collection | Fall in Love Tablecloth |
| This soft to the touch "Cool Autumn" collection is an excellent way to create a cool harvest table setting. The farmhouse elements are great for a casual dinner party of a formal event. The features of cotton, pumpkins leaves throughout the collection are perfect for creating a cool farmhouse harvest vibe. | This fruit harvest themed Collection, Palermo creates an essence of Italy in any dining space. The design features a vine of vibrant watercolor apples, pears, and grapes against a tan, textured background. Water Repellant. Polyester. Machine washable | Acorns, maple leaves, and butterflies dance playfully across the landscape of Laural Home's "Fall in Love" tablecloth. Fall In Love features a warm color palette a subtle paisley-centered pattern. This Autumn-inspired design will inspire themes of autumn, harvest, and nature in any dining room. |
| | | |
| --- | --- | --- |
| | | |
| Winter Garland Collection | Christmas Trimmings Collection | Christmas By The Sea Collection |
| Beautify your dining area this holiday season with the festive greenery of Laural Home's "Winter Garland" collection. This fresh winter design features pinecones nestled in vibrant red and green garlands and will add color and warmth to get your home ready for a happy holiday. | Christmas Trimmings collection is the perfect compliment to all your holiday decorations. Bringing holiday cheer with white poinsettias, beautiful bows, green garlands cute chickadees this elegant runner creates the perfect accent to your holiday table | This soft to the touch "Christmas By The Sea" collection is an excellent way to have coastal flair to your Christmas table setting. Christmas by the sea features soft yet bold blue hues. Shiplap flairs sea shells hang like with garland elegantly bringing the true feeling of Christmas by the sea. |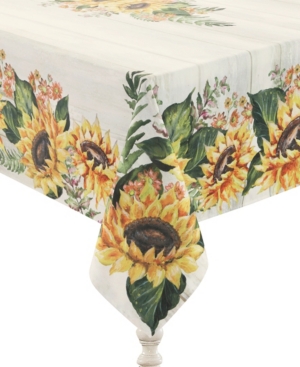 Sunflower Day Collection
This floral themed Sunflower Day Collection is a perfect way to create a fun rustic table setting. The design features hand painted sunflowers in warm yellow, brown, green hues with pink accent flowers against a wooden background.
The New-York-based designer Sandy Chilewich is founder and creative director of Chilewich, a company best known for contemporary table settings and modern design. For the last three decades, Sandy Chilewich has focused on reinterpreting underutilized fibers and overlooked manufacturing practices while producing placemats, floor mats, and other designs marked by ingenuity and elegance. Chilewich's husband, Joe Sultan, sold his architecture practice in 2004 and joined the company full time as CEO. The two have changed the firm's corporate name to Chilewich Sultan LLC to reflect their business partnership.
| | | |
| --- | --- | --- |
| | | |
| Signal Jacquard Placemat - 14" x 19" | Pressed Petal Placemat, 15"Dia | Metallic Lace Placemat |
| Placemat in jacquard weave. Vinyl/polyester. Suitable for indoor and outdoor use. | Petal, a new addition to the "Pressed" collection of placemats, is inspired by scattered flower petals. The non-woven textile is created through a complex and time-consuming process utilizing special molds and requiring close collaboration between Chilewich and specialists at the producing factory in Taiwan. Use this delicate modern lace cutout to surround a plate like a charger, or alone for a decorative and understated placemat that is surprisingly resilient. | Metallic lace placemat. Woven vinyl/polyester. 15" Round. |
| | | |
| --- | --- | --- |
| | | |
| Flora Placemat | Trellis Placemat | Bamboo Placemat, 14" x 19" |
| A graphic sensibility transforms familiar, natural forms into a striking interplay of light and shadow, motion and stillness. To create this enchanting new printed placemat, our design team used one of the earliest photographic processes to make continuous-tone, contact-printed images-known as cyanotypes or sunprints of fresh and dried flowers. The composition ultimately selected adds dimension to the silhouettes, evoking a field of blooms turning toward the sun. | Combining the durability and easy maintenance of Chilewich's signature woven textiles with the open, delicate quality of lace, this design brings rich texture to the table. Burnished metallic hues accentuate the nuanced weave. | Bamboo combines innovative practicality with a serene Asian sensibility. This subtle design has a natural feel that will complement and enhance a wide range of tableware, from traditional to contemporary. Made in USA with TerraStrand® and Microban®. |
| | | |
| --- | --- | --- |
| | | |
| Thatch Placemat | Mini-Basketweave Placemat | Basket Weave Placemat, 14" x 19" |
| A timeless new texture, Thatch reveals the power of subtle shifts in color to create a richly patterned surface. This quiet yet distinctive weave is designed to complement a broad range of styles and color palettes. | Mini-basketweave placemat. Polyester/vinyl. | One of the oldest and simplest of weaving constructions, Chilewich's four-over-four Basketweave has become the most important vehicle for expressing our unique chromatic point of view—from deep earth tones, to shades of metal, to our distinctive interpretation of brights. A Chilewich signature, Basketweave continue to be the foundation for our expanding collection of textures. |
| | | |
| --- | --- | --- |
| | | |
| Mini Basketweave Confetti Placemat | Quill Placemat - 14" x 19" | Basketweave Oval Placemat |
| Indoor/outdoor placemat. 19" x 14". Phthalate-free TerraStrand® (PVC) with Microban® antimicrobial protection. | Woven placemat in chevron pattern with tonal stripes. Vinyl/polyester. Suitable for indoor and outdoor use. | Mini Basketweave is Chilewich's signature Basketweave in half time. Instead of four yarns over four, Mini Basketweave is two yarns over two, resulting in a quieter, less textural surface. |
| | | |
| --- | --- | --- |
| | | |
| Basketweave Round Placemat | Rhythm Placemat | Boucle Placemat - 14" x 19" |
| One of the oldest and simplest of weaving constructions, Chilewich's four-over-four Basketweave has become the most important vehicle for expressing a unique color point of view. | Inspired by the boundary-breaking textiles of the Bauhaus, the Cranbrook Academy of Art, and Black Mountain College, this graphic weave experiments with stripes and subtle shifts in tone to create the look of a syncopated plaid. Placemat is made of vinyl/polyester. Approx. 14" x 19". | Placemat in bouclé weave. Vinyl/polyester. Suitable for indoor and outdoor use. |
| | |
| --- | --- |
| | |
| Linen Tablecloth | Linen Runner |
| A beautifully decorated table starts with a classic linen tablecloth. Ours is made of 100% linen in Portugal and features a hemstitched detail along the border. Measures 70" wide by 96" long. | A beautifully decorated table starts with a classic linen table runner. Ours is made of 100% linen in Portugal and features a hemstitched detail along the border. Measures 16" wide by 90" long. |
| | | |
| --- | --- | --- |
| | | |
| Alanis Striped Placemat Set | Amber Lewis for Anthropologie Grayston Napkins | Blue Pheasant Harper Placemat, Set of 2 |
| Duo set of vintage-inspired cotton-linen placemats topped with a striped pattern and trimmed with a ruffled edge for a soft, femme take we love. | Featuring classic stripes and checked patterns in neutral hues, this mixed set of napkins - designed by Amber Lewis in collaboration with Anthropologie - lends charm to casual tablescapes. | Tastemakers, be bold and showcase an animal print, but not just any animal print: black-and-white Dalmatian spots printed on our luxurious hair-on-hide material. |
| | | |
| --- | --- | --- |
| | | |
| Urban Renewal Denim Table Runner | Turi Raffia Placemat | Suzi Folk Floral Tablecloth |
| Made from strips of cotton denim in a rag weave for major texture we love, this Urban Renewal table runner brings boho-approved aesthetics to every meal. Featuring a range of different washes and tones trimmed with fringed edges. | Woven from raffia leaves, this placemat sets the scene for a nature-inspired table - indoors or al fresco. | Cotton tablecloth featuring a textural weave with a rustic look thanks to a folk-inspired floral topped with contrast color-pop stitching. Available in tablecloth or runner formats, it'll provide the perfect backdrop for your next boho-cool gathering. |
| | | |
| --- | --- | --- |
| | | |
| Urban Renewal One-Of-A-Kind Kantha Table Runner | Urban Renewal One-Of-A-Kind Kantha Placemat Set | Sophine Kantha Stitch Table Runner |
| Made from patchworked kantha fabrics in an array of hues and patterns, this Urban Renewal table runner lends a boho-inspired look to your space, topped with all over seed stitching. Made from a unique assortment of patterns and colors, the runner you receive will vary from what's pictured here. | Set of four kantha fabric placemats by Urban Renewal, featuring colorful prints spliced together and topped with seed stitched accents all over, perfect for setting a vivid, boho-inspired table. Made from a unique assortment of patterns and colors, the placemats you receive will vary from what's pictured here. | Inspired by folk motifs, this woven cotton table runner brings a lovely touch to any setup with florals in a striped orientation topped with color-pop kantha stitching. |
| | |
| --- | --- |
| | |
| Town & Country Living McKenna Table Linens | Charlie Sprout Stripe Napkins |
| Refresh the look of your dining table with the Town and Country McKenna. Designed with a textured, pin dot texture and diamond motif throughout, the simple yet elegant design is easy to coordinate with most any decor. | Block printed by artisans in India, these striped cotton napkins add the perfect finishing touch to your table. |
| | |
| --- | --- |
| | |
| Variegated Napkin, Set of 6 | Ambesonne Cats Set of 4 Napkins, 18" x 18" |
| Can be dressed up or down to create the perfect look for each place setting and your table. Perfect for everyday use, holidays, catering, special occasions, dinners, brunches, potlucks, bbq's, buffets, showers and more. | Decorative and original satin fabric square napkins, set of 4. Ideal for dining, events and table decorations. Impress your guests with a simple touch on your table setting. |
Go to:
Add Global Luxury to your favorites