Decorative Mirrors
Decorative mirrors to Go to: Island Style Decorative Mirrors, Global Style Mirrors
Floor Mirrors
| | | |
| --- | --- | --- |
| | | |
| Candom Floor Mirror - Ebony Black | Skye Mirror | Arched Rattan Leaning Mirror |
| Floor mirror with wheat-colored rattan insert. Sungkai frames in black-finish. Oval-shaped mirrored glass. Avoid direct sunlight, exposure to heat, and sharp objects. 1.5"L x 70"T x 30"W. | With a captivating frame hand carved from oak wood, this mirror brings together any eclectic or natural-inflected space. | Featuring an au courant leaning design and a handcrafted rattan frame, this arched mirror creates a focal point in any space. |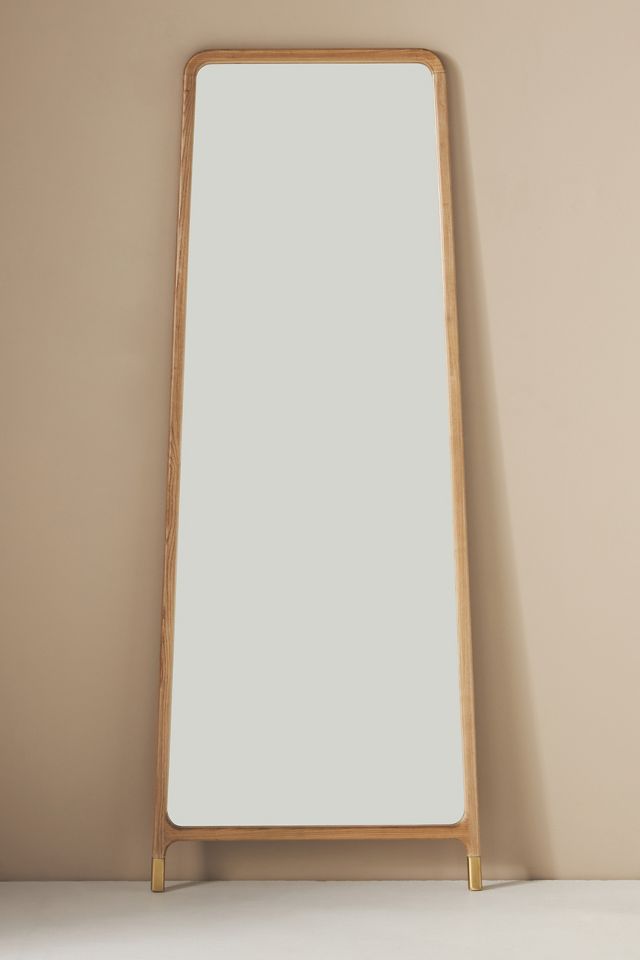 Sylvie Floor Mirror
Minimalist and elegant at once, this mirror adds understated glamour to any space.
| | | |
| --- | --- | --- |
| | | |
| Evey Shelved Mirror | Bree Mirrored Shelf | Train Car Mirror with Gold Marble Shelf |
| Fitted with a shelf to hold knick-knacks, plants, or accessories, this mirror functions beautifully over a dresser, vanity, or console table. | With a shelf for placing bathroom necessities, trinkets, or your favorite succulent, this mirror is beautiful and functional at once. | A brass finished metal frame surrounds a glass mirror with a marble shelf, perfect for displaying your favorite objects. Wood composite base. Overall: 16"W x 4"D x 29.3"T. |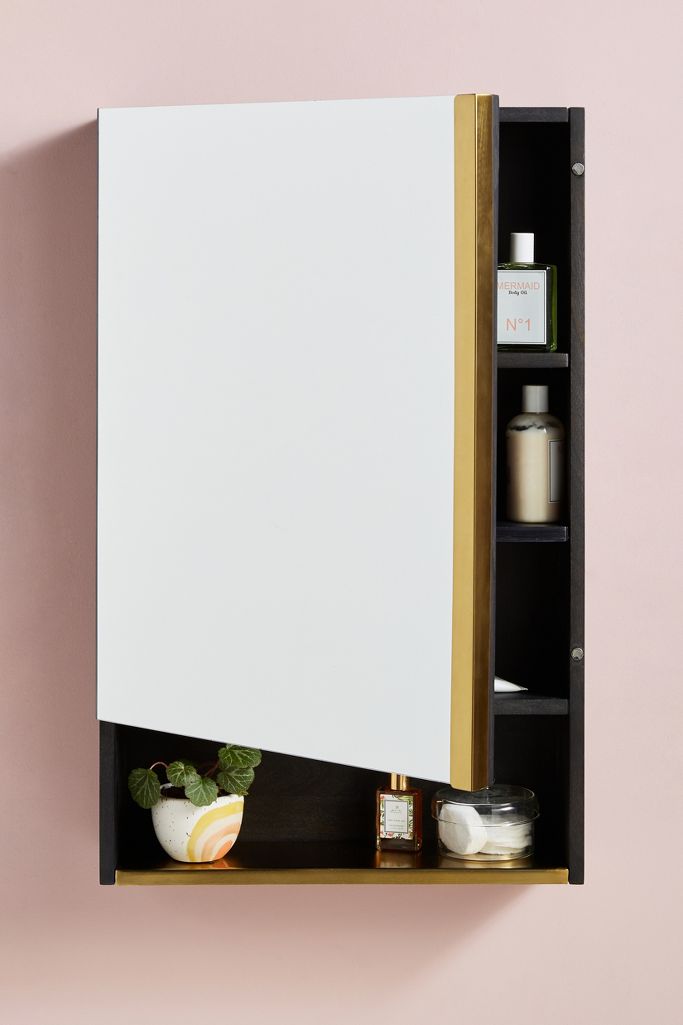 Erma Mirrored Bath Cabinet
A sleek addition to a bathroom, this mirrored storage cabinet offers ample storage while fitting a contemporary aesthetic.
Every house should have gracious mirrors – over fireplaces, in entry ways, back halls, powder rooms and of course, bedrooms.
| | | |
| --- | --- | --- |
| | | |
| Elisabeth Mirror | Bonjour Rattan Mirror | Clemente Rattan Mirror |
| A beautiful contrast of whitewashed hardwood and brass accents invites modern glamour into any room of your home. | The Bonjour mirror has a beautiful, oblong basket-weave frame. Its wheat-colored frame has a coastal cottage charm and an organic appeal that would work well in a number of traditional settings. Add this mirror to a bathroom, powder room, entryway, or bedroom. Approx. 24"W x 1"D x 36"T | With hand-woven rattan frame, this nature-inspired mirror brightens up any room in your house. |
| | | |
| --- | --- | --- |
| | | |
| Freya Mirror | Twig Mirror | Rattan Lozenge Mirror |
| Beautifully hand carved from tropical hardwood, this mirror offers a timeless accent to a hallway, home office, or living room. | The twigs on this gorgeous mirror are made from sand cast brass that is painstakingly hand polished. | Inspired by organic, natural forms, this modern mirror creates an atmosphere of calm and balance in any room of your home. |
| | | |
| --- | --- | --- |
| | | |
| Hoop Mirror | Quatrefoil Rattan Mirror | Panama Mirror |
| Iron, glass | A heralded icon throughout history, the quatrefoil symbolizes good luck with its "four leaves" in a symmetrical design. Here, this once-Gothic symbol receives a modern revision as a stunning rattan mirror with hand-placed brass accents. | A statement-making piece for a bedroom, entryway, or living space, this mirror boasts a halo of hand-woven midrib fronds that are sourced from coconut trees. |
| | | |
| --- | --- | --- |
| | | |
| Biedel Wall Mirror | Solana Rattan Mirror | Santiago Rattan Mirror |
| Mirror is made of rattan and glass. Wood basket weave frame. Approx. 36"Dia. x 2.25"D. | With a rattan frame, this nature-inspired mirror brightens up any room in your house. | Beveled mirror framed with layers of split rattan in a dark black brown finish. Overall: 42.5"Dia. x 2.25"D. |
| | | |
| --- | --- | --- |
| | | |
| Lopez Wall Mirror | Rowan Mirror | Sculpted Rattan Mirror |
| Handcrafted mirror is made of wood, glass, and wood composite. Features wrapped coco wood rope frame. Approx. 44"Dia. x 2"D. | Fit with a beautiful beveled edge crafted out of grey-washed natural oak, this mirror brings a classic touch to any space - whether hung above a bathroom vanity or an entryway table. | Featuring an Art Deco-inspired silhouette rendered in natural rattan, this handcrafted mirror brings a touch of drama to otherwise neutral spaces. |
| | | |
| --- | --- | --- |
| | | |
| Money Cowry Round Mirror | Libby Beaded Mirror | Emiliana Caned Mirror |
| Money cowry shells are intricately placed to a create a perfectly symmetrical mirror. Handcrafted of mirror and shell. Overall: 35"Dia. x 5"D. | Intricate beading creates the subtle curves of this beautiful, neutral-toned mirror - it's a piece that's sure to catch plenty of glances anywhere you place it. | With a caned rattan frame, this mirror is well-suited for sun rooms, light-filled entryways, and living spaces looking for that perfect natural touch. |
| | | |
| --- | --- | --- |
| | | |
| Townsend Mirror | Riviera Rectangular Mirror | Laurel Mirror |
| Mirror is made of raffia and metal. Features a light gray silky raffia frame accented with polished stainless steel metal corner details. Includes metal cleats to hang both vertically and horizontally. Approx. 34"W x 5"D x 45"T. | Mirror is made of raffia and brass. Features natural raffia on outside edge with brass in inside frame. Approx. 30"W x 5"D x 41"T. | Mirror features natural abaca rope and raffia straw hand-twisted details. Fringed trim placed over a slightly curved powder-coated metal frame. Can be hung both vertically and horizontally. |
| | | |
| --- | --- | --- |
| | | |
| Riviera Round Mirror | Marlow Mirror | Tropico Mirror |
| Mirror features natural raffia on outside edge with brass on inside frame accented with a decorative brass hanger. | This beautiful mirror has a modern beveled mirror in the center and is framed with rivoli ghost etched mirrors. The etched designs and modern pediment top give this traditional framed mirror a modern updated look. | Mirror features intricately placed layered wood sticks in dark brown tones. |
| | | |
| --- | --- | --- |
| | | |
| Fossilized Clam Rectangular Mirror | Rectangular Cork Mirror | Tropical Blossoms Mirror 2 Giclée |
| Handcrafted fossilized clam mirror with metal frame in gold finish. The fossilized clam stones are natural and will vary in shape, size and color. No two items will be the same. Wrought iron details; plywood backing. Plain glass mirror with 1" bevel. Hangs vertical and horizontal. Overall: 35"W x 2.3"D x 42"T. | Handcrafted mirror. Cork frame. Approx. 33"W x 2"D x 67"T. | This giclée on mirror work features a luscious floral bundle draped across the composition. Inspired by tropical flowers, this piece showcases vibrant color elegantly paired with a gold wooden frame finish. Approx. 41"L x 30.0"W |
| | | |
| --- | --- | --- |
| | | |
| Kenis Braided Mirror | Florence Mirror | Primrose Mirror |
| Mirror with pole rattan frame with hand-woven braided rattan peel all in a grey wash finish. Mirror includes metal hangers for mounting. Overall, approx. 48"Dia. x 5.5"D. | This mirror offers a timeless accent to any wall in your home - from hallways to powder rooms to bedrooms. | Handcrafted mirror from the Primrose collection. Made of traditional rattan. Approx. 1.5"L x 30"T x 48"W. |
| | | |
| --- | --- | --- |
| | | |
| Lush Palm Mirror 1 Giclée | Sutton Mirror | Rectangular Iron Mirror |
| Featuring luscious palm branches, this piece showcases a giclée on mirror work. Furthering the tropical motif this piece is bordered with a bamboo-inspired wood frame. Approx. 41.75"L x 31.8"W | Crafted of rattan and wicker, this rustic mirror lends a natural element to your interior. | Hand-welded iron mirror finished in silver leaf. Designed by Barclay Butera. Non-beveled center mirror. Cleat hardware provided. Item can hang horizontally or vertically. Approx. 24"W x 40"T. |
| | | |
| --- | --- | --- |
| | | |
| Spotswood Arbor Mirror | Imagined World Mirror | Devina Mirror |
| Handcrafted mirror set in cast aluminum frame | Evoking the wonder and mystery of a deserted island, this hand-carved mirror lends an unexpected aspect to every space. | Handcrafted with stunning bone inlay, this mirror brings a natural elegance to any space - whether hung above a bedroom vanity or an entryway table. |
| | |
| --- | --- |
| | |
| Dentwood 46" Wall Mirror | Symbols Mirror |
| The Dentwood Mirror is made of mango wood with textured details and weathered black finish. Can be hung horizontal or vertical | The patterns on these hand crafted silver tiles reference the universal language of rock art or petroglyphs. In New Mexico, throughout the Southwest and across the world, Native Americans, Spanish explorers and early humans carved symbols on rock. In those places where the climate is dry many of these symbols remain today. There are many hypotheses explaining the meaning of these symbols: they could be maps, spiritual communications, or simply a great story shared. All agree that these images provide a valuable record of cultural expression and in many cases hold profound spiritual significance for contemporary Native Americans and for the descendants of the world. |
| | | |
| --- | --- | --- |
| | | |
| Sherwood Mirror | Prairie Mirror | Kyoto Mirror |
| Hand-carved, faux-bois oval mirror framed in reclaimed pine. A beautiful, organic-looking piece. | Each iron filament of the Prairie Mirror is carefully welded to the mirror's frame so that each piece is perfectly, evenly spaced. Then the frame is shaped into a 3D waving motion and an outer frame is added to the edges. Brass braising highlights the base of the glass and edges of the mirror. The Prairie Mirror is deceptively large at 46" diameter and makes a strong statement wherever it hangs. | This painstaking carving process is aimed to show a different side of the natural beauty and texture of wood that is not usually seen on plain surfaces. The peaks and valleys created convey an abstract texture that is organic and sculptural in form. Painted in black, the texture mimics that of delicate charcoal with none of its instability. Constructed of gmelina wood, a cousin to beechwood. |
| | | |
| --- | --- | --- |
| | | |
| Cast Brass Geometric Mirror | Wite Ribbon Mirror - Natural I | Stardust Mirror Wall Decor |
| Cast brass geometric shapes combined with Louise Nevelson-style. The pattern wraps around a cast brass beveled mirror and a two-sided lamp base. Handcrafted mirror with brass frame. | The Wire Ribbon mirror has so much movement in the iron ribbons that circle the inner mirror. | Wall decor created with six diamond-shaped mirrors. 33.5"W x 4"D x 43"T. |
| | | |
| --- | --- | --- |
| | | |
| Basel 79" Eglomisé Mirror | Horn Mosaic Wall Mirror | Ignatious Mirror |
| A transitional silver frame is in an organic shape. Inside the frame is five sections of églomisé with varying degrees of distressing. Handcrafted of mirrored glass, wood, and wood composite. Approx. 46"W x 2"D x 79"T | Neo-gothic horn resin mirror. | Handcrafted mirror features book-matched wooden frame in golden taupe marble finish. Made of wood composite. Approx. 42.25"L x 2.0"W x 66.3"T |
| | | |
| --- | --- | --- |
| | | |
| Laurent Mirror | Greystoke Mirror | Costaza Elliptical Wall Mirror |
| Mirror is made of palm fiber. Plywood backing. Approx. 48"Dia. x 2"D. | Faux crocodile skin in a variegated black with distressed gold cerusing decorates a heavily chamfered frame surrounding a single pane of modern beveled mirror. Handcrafted of wood, resin, and wood composite. Designed for portrait or landscape orientation. Hangs using a French cleat (included). Overall: 48"W x 3.5"D x 60"T. | An elliptical frame surrounds a clear, modern beveled mirror that is within another frame. The outside frame is in a weathered verdigris finish, and the center frame is in a sorano brown finish. Handcrafted of wood and wood composite. |
| | | |
| --- | --- | --- |
| | | |
| Targua Inlay Mirror | Hand Forged Metal Mirror | Waterfall Inlay Mirror |
| Since the days of ancient Egypt, craftsmen have been using inlaid bone to decorate furniture surfaces, and for good reason: It embodies a natural sheen that adds instant luxury to any space. Handcrafted using the same centuries-old technique, this room-anchoring mirror captures the essence of Moroccan tilework with a reiterative bone inlay design rendered a modern silhouette. | This mirror features a hand forged metal frame finished in gold leaf with an organic, scalloped edge design. A generous 1.25" bevel is added to this piece. May be hung horizontal or vertical. Overall: 28"W x 3"D x 40"T. | Since the days of ancient Egypt, craftsmen have been using inlaid bone to decorate furniture surfaces, and for good reason: it embodies a natural sheen that adds instant luxury to any space. Crafted using the same centuries-old technique, this mirror is a sleek and modern update on its traditional predecessors. |
| | | |
| --- | --- | --- |
| | | |
| Bamboo Mirror | Reedly Wall Mirror | Bamboo Pagoda Mirror |
| Handcrafted beveled mirror constructed of mango wood. Covered in brass metal sheeting with antique brass finish. Approx. 26"L x 2.0"W x 45"T | Wall mirror with bamboo-inspired frame. Polyurethane with silver-leaf finish. 40"W x 1.5"D x 50"T. Hangs vertically or horizontally. | Handcrafted Pagoda frame in antiqued gold metal. Iron mirror and wood composite. 21.2"W x 1"D x 50.8"T. |
| | | |
| --- | --- | --- |
| | | |
| Budding Amethyst Mirror | Mirrored Bamboo Wall Decor | Mulan Mirror |
| Amethyst buds on organic brass branches are reminiscent of early spring. | Mirrored wall decor features bamboo-inspired resin frame. Handcrafted of painted steel and wood composite. Antique gold leaf appliqué. Hangs both vertically and horizontally. Includes steel cable to hang. Approx. 24"L x 44"T | Handcrafted beveled mirror. Bamboo-inspired frame is handcrafted of iron rods. Hand-painted antiqued gold finish with matte black inner lip and black iron band accents. |
| | | |
| --- | --- | --- |
| | | |
| A Tale of Two 60" Mirror | Autumn Leaf Mirror | Ginkgo Leaf Mirror |
| A split mirror featuring a metallic finish and modern mirror. Handcrafted of mirror, wood, and wood composite. Approx. 42"W x 2"D x 60.3"T | Wood, iron, glass | Gold iron Ginkgo leaf inspired rectangle mirror. Hand-applied finish and no two pieces will be the same. Wood composite backing. Can be hung vertical or horizontal. |
| | | |
| --- | --- | --- |
| | | |
| Global 30" Wall Mirror | Buru Mirror | Macaulay Mirror |
| Wall mirror is made of bone, brass, and glass. Overall, approx. 30"Dia. x 1"D | Rattan mirror with natural cream wrapped seagrass trim. Includes hanging hardware. Approx. 45"Dia. | Iron mirror in antique brass finish. Includes hanging hardware. Approx. 30"T x 32"W |
| | | |
| --- | --- | --- |
| | | |
| A Tale of Two 60" Mirror | Elise Mirror | Black Nickel Mirror |
| A split mirror featuring a metallic finish and modern mirror. Handcrafted of mirror, wood, and wood composite. Approx. 42"W x 2"D x 60.3"T | Beveled, layered mirror. Wood composite backing. Can be hung vertically and horizontally. Overall: 28"W x 1"D x 43"T. | Handcrafted beveled mirror with wood backing. Hand welded stainless steel frame finished in black nickel. Approx. 30"W x 1"D x 40"T. |
| | | |
| --- | --- | --- |
| | | |
| Bhawana Mirror | Hair on Hide Framed Mirror | Tansania Indigo Mirror |
| Rich teak wood features mother-of-pearl inlays to create a stunning mirror. This stately piece borrows inspiration from middle eastern design. Gold metal finish. Wood composite backing. Approx. 27"W x 21.8"D x 41.5"T. | Handcrafted rectangular glass mirror. Frame stitched with diagonal pieces of natural hair on hide (India). | Handcrafted beveled mirror with zebra-printed frame. |
| | | |
| --- | --- | --- |
| | | |
| Modernist Mirror | Gadlas Mirror | Natural Faux Horn Mirror |
| With concave curves and rounded edges, this reflective piece puts a modern spin on a classic rectangular mirror. | A simple cockbead molding in exotic gold frames the quadrants of beveled modern mirror. A central decor of selenite crystal completes. | Our best-selling faux horn pattern with elaborate color variations is placed on this ever so simple rectangle shape, creating the perfect neutral mirror. |
| | | |
| --- | --- | --- |
| | | |
| Banded Crystal Wall Decor - Large | Obsession Mirror | Tree of Life Mirror |
| Transparent round crystal featuring a brass setting and complete with a mirrored backing. Mix and match to create a dimensional wall installation. Made of crystal and stainless steel. | Handcrafted frameless mirror with heavy bevel all around. Made of wood composite. Approx. 5"L x 53.0"W x 74"T | Handcrafted nickel-plated metal mirror from the Tree of Life collection inspired by imagery that floats around classic storytelling. Each piece in this collection undergoes a series of casting, filing, welding, and oxidation techniques making no two pieces ever alike |
| | | |
| --- | --- | --- |
| | | |
| Grace Mirror | Flower Market 32" Wall Mirror | Simone 62.8" Mirror |
| Handcrafted mirror features a frame in silver and white finish. Made of wood composite, stainless steel, and beveled mirror. Narrow rim of églomisé showing all around the front. Approx. 4"L x 46.0"W x 70.3"T | Handcrafted wall mirror features floral overlay. Made of wood, glass, and brass. Approx. 17.5"W x 4.5"D x 31.8"T | Handcrafted rectangular mirror features a frame in signature Celtis veneer with pebbled shagreen texture. Frame surrounds a clear, modern beveled mirror with a heavy bevel. Made of wood composite/beech solids/resin. Approx. 44.5"W x 3.25"D x 62.8"T |
| | | |
| --- | --- | --- |
| | | |
| Ginkgo Mirror | Having a Ball Mirror | Cross Stitch Rectangle Mirror |
| Gingko leaves cast from shining warm brass encircle the frame of this round wall mirror. A perfect companion to our ginkgo leaf table, this lush botanical piece blends the soft organic shapes of nature with the edge of contemporary design. Mirror made of pewter and brass. Approx. 23.5"Dia. | Handcrafted beveled mirror features three-dimensional balls all over the frame. Made of beech solids and wood composite. Approx. 9.5"L x 49.0"W x 66"T | Handcrafted mirror with dyed leather hair-on-hide (India) border. Natural color variation will occur in hide. Approx. 28"L x 1.0"W |
Go to:
Add Global Luxury to your favorites