Global Kitchen Furniture
Global kitchen furniture for relaxed and casual family gatherings. Vibrantly colored, hand carved or island casual. Go directly to: Hand-carved Kitchen Furniture, Kitchen Carts and Storage, Lighting, Floor Mats
Kitchen Furniture
| | | |
| --- | --- | --- |
| | | |
| Clay Dining Table | Alexander Tall Dining Set | Ari Counter Table |
| Small-scale round dining table with a lavastone top and angular iron base, perfect for your little apartment or dorm room. Metal x-base offers an industrial-modern look | Set an inviting table with this rustic-industrial dining set. Featuring a tall table with metal x-framing and a wooden tabletop, featuring four included stools with round seats that tuck neatly underneath for easy storage. | Instantly add some extra counter and pantry space with the classically modern Ari Counter Table. Features a sturdy painted metal frame with two ample shelves for pantry or cookware storage and a natural wooden tabletop perfect for prepping all your favorite meals on. |
Astrid Dining Table
Astrid Dining Bench
Dakota Adjustable Stool - Set Of 2
Modernist dining table available exclusively at UO that offers your space graphic-cool appeal. Featuring a slatted tabletop with dual plank base accented by circle cutouts for an unexpectedly fresh detail. Sleek, modernist dining bench to give your space options for seating when youíve got a whole group of pals over. Seat extends past legs with an intersecting design and dual plank legs.
Set of 2 bar stools made from bamboo and metal for an industrial look we love! Adjustable height so it's perfect for any desk, dining table, bar or work station.
| | | |
| --- | --- | --- |
| | | |
| Annaway Dining Table | Haskall Breakfast Bar | Seaford Pedestal Dining Table |
| Inspired by a French bistro table, this glossy, marble-topped piece suits solo breakfasts and family gatherings alike. | Space-saving high-top breakfast bar that comes with 2 comfort-molded stools that slide to hang on brackets underneath! Crafted in India with stunning natural mango wood surfaces and sturdy lacquered iron legs. Style it against a wall or use it to create an island in your kitchen | A harmonious pairing of brass and marble pleases the eye on this feminine dining table - the base of which draws inspiration from a lush bouquet of flowers - as it echoes the tone of your room's most polished pieces. |
| | | |
| --- | --- | --- |
| | | |
| Devon Round Dining Table | Farmhouse Dining Chair | Sonali Dining Table |
| A timeless choice for your dining room or breakfast nook, this table is crafted in France using solid oak and celebrates the unique grain pattern of its source tree. | Featuring a sleek grey marble top set upon a solid oak base, this dining room table offers a stunning, clean design for any style of home. | A sculptural, room-anchoring piece for an eat-in kitchen or small dining space, this striking table boasts meticulous craftsmanship and a clever design. With three rounded shapes appearing to be delicately balanced on top of each other, its base is artwork in itself, while a light blonde finish and durable ash wood construction give it a contemporary flair worthy of display. |
Smoked Oak Dining Table
Corbyn Dining Table
Oak Profile Dining Table
Claire Desjardins Brushstroke Tamsin Dining Chair
Oak Osso Stool
Hand-forged brass and wooden butterfly joinery is scattered across the surface of this elegant yet rustic dining shape. Each table is built by hand and utterly unique, with a natural live-edge top and a brass base that will develop a burnished patina over time.
Crafted with tapered legs, curved corners, and subtle hints of brushed brass, this midcentury-inspired piece lends a touch of casual charm to any dining room.
Solid in structure yet visually light as a feather, this oak-crafted dining table honors wood in its natural state through a refined, minimalist design. Whether placed in a dining room or eat-in kitchen, this piece provides a clean, reliable surface for family, guests, and day-to-day living. Featuring a serene ocean-inspired motif, this charming chair - designed by Claire Desjardins in collaboration with Anthropologie - brings a touch of color to your table.
| | | |
| --- | --- | --- |
| | | |
| Dawson Rattan Chair | Lulu Dining Table | Wren Metal Chair Set Of 2 |
| Bring bistro vibes to your space with this rattan chair, featuring woven seat and back framed with a color-pop construction finished with arching rests around edges. | Boho-femme dining table with a rattan base and round tabletop, featuring swirling strands accenting an apron edge, topped on bound multi-dowel legs with crisscrossing support beams. Retro-inspired dining chair thatís so charming. Crafted from rattan with a looping frame, round seat and flared legs with bar rests. | Set of 2 metallic chairs in an industrial + modern design. Welded metal for durable construction with rubber footing. We love these chairs in any living, sleeping or dining space! |
| | | |
| --- | --- | --- |
| | | |
| Selene Stool | Lovell Chair | Adenia Tamsin Dining Chair |
| Embrace sleek modernity with this polished stool found exclusively at Urban Outfitters, featuring a curving, tubular metal frame with a backrest bar arching around the lightly padded upholstered seat. | A charming kitchen chair, in quarter of spring-is-here shades. | American ash; painted finish. Bent wood seat construction. Chair is sealed with clear lacquer for easy cleaning; it protects against moisture, but should be maintained |
| | | |
| --- | --- | --- |
| | | |
| Ikat Tamsin Dining Chair | Merida Tamsin Dining Chair | Sylvie Tamsin Dining Chair |
| Bent wood, iron. Bent wood seat construction. Black: chrome legs. Navy: brass legs | Bent wood, iron. Bent wood seat construction. Chair is sealed with clear lacquer for easy cleaning | American ash; painted finish. Bent wood seat construction. Chair is sealed with clear lacquer for easy cleaning; it protects against moisture, but should be maintained |
| | | |
| --- | --- | --- |
| | | |
| Tamsin Dining Chair | Solid Tamsin Dining Chair | Remnick Chair |
| American ash; painted finish. Bent wood seat construction. Chair is sealed with clear lacquer for easy cleaning; it protects against moisture, but should be maintained | Bent wood, iron. Bent wood seat construction. Chair is sealed with clear lacquer for easy cleaning; it protects against moisture, but should be maintained | Oak frame dining chair |
| | | |
| --- | --- | --- |
| | | |
| Abner Chair | Abner Armchair | Emrys Armchair |
| An elegant, button-tufted back and wide seat make this minimal silhouette an ace for fine dining. | An elegant, button-tufted back and wide seat make this minimal silhouette an ace for fine dining. | Guarantee your guest the most stylish seat at the table with this elegant dining perch, which features your choice of upholstery on a minimalist wooden base. |
| | |
| --- | --- |
| | |
| Emrys Chair | Emrys Bench |
| Guarantee your guest the most stylish seat at the table with this elegant dining perch, which features your choice of upholstery on a minimalist wooden base. | Guarantee your guests the most stylish seats at the table with this elegant dining bench, which features your choice of upholstery on a minimalist wooden base. |
| | |
| --- | --- |
| | |
| Sika Designs Piano Rattan Dining Armchair | Sika Designs Ofelia Rattan Loom Chair |
| The Piano armchair makes for cozy and versatile seating with its distinctive woven seat and classic lines. This chair was inspired by the style and soul of the 1950s and 1960s and is handcrafted from natural rattan | The Ofelia Chair is the ultimate blend of practicality and picture-perfect design, crafted with a rattan frame and a loom upper. Loom is a unique woven material consisting of twisted Kraft material that has been partly reinforced with steel wire |
| | |
| --- | --- |
| | |
| Sika Designs Monet High Back Rattan Lounge Chair | Sika Designs Monet High Back Rattan Lounge Chair |
| The Monet Chair is a popular high-backed chair. Based on drawings from the 1950s and 1960s, this chair is designed for comfort and style. It is handcrafted from natural rattan and is built to last as long as its timeless design | The Monet Chair is a popular high-backed chair. Based on drawings from the 1950s and 1960s, this chair is designed for comfort and style. It is handcrafted from natural rattan and is built to last as long as its timeless design |
| | | |
| --- | --- | --- |
| | | |
| Hand-carved Menagerie Owl Dining Chair | Hand-carved Menagerie Woodpecker Dining Chair | Hand-carved Menagerie Deer Armchair |
| With fine design in mind, and wildlife as our muse, we've given the classic Chippendale chair a modern update. Each seat is meticulously hand-carved over the course of fourteen days, resulting in a woodland wonder that's a natural fit for your dining room. | With fine design in mind, and wildlife as our muse, we've given the classic Chippendale chair a modern update. Each seat is meticulously hand-carved over the course of fourteen days, resulting in a woodland wonder that's a natural fit for your dining room. | With fine design in mind, and wildlife as our muse, we've given the classic Chippendale chair a modern update. Each seat is meticulously hand-carved over the course of fourteen days, resulting in a woodland wonder that's a natural fit for your dining room. |
| | | |
| --- | --- | --- |
| | | |
| Lombok Buffet | Hand-carved Menagerie Buffet | Land & Sky Buffet |
| Hand-carved from solid mango wood, this elegant buffet is a true work of art. Its filigree-inspired cutouts create a breathable space for the contents of your buffet. | With fine design in mind, and wildlife as our muse, we've created an enchanting piece that's a natural fit for your dining room. Meticulously hand carved over the course of 30 days, it features stylized foliage and a bevy of woodland wanderers. | Artistic form meets literal function in this handcrafted poplar cabinet - knotted tree trunks and slender hooves serve as the legs of the piece. Hand-carved poplar |
| | | |
| --- | --- | --- |
| | | |
| Connected Goods Billie Belly Basket | Maddie Storage Shelf | Wyatt Storage Cabinet |
| More calm, less clutter. Stay organized with these foldable storage baskets handmade by village artisans. Perfect for toys, blankets, towels, plants and more. The collapsible top folds down for easy storage and stacking! Available in four sizes. | Curate your sleek display with this modernist storage shelf. Standing design with a lacquered finish features rounded edges and a trio of shelves with varied depth, set above a pull-out base drawer with metal glides. Perfect for showing off your favorite accessories, coffee table books, plants and art pieces | This modern-boho storage cabinet is a standout piece, offering infinite possibilities for organizing your essentials within the mango wood frame, accented with jute panels at doors. Fitted with a trio of shelves and top hanging rack inside main compartment, and finished with a drawer at base. |
| | | |
| --- | --- | --- |
| | | |
| Rolling Kitchen Cart | Bamboo Rolling Kitchen Cart | Florence Media Stand |
| Perfect for your kitchen or studio space, this rolling metal cart features 3 tiers for storing pots, pans, plates + more. Features a handle for easy steering and a shallow basket underneath top tier for storing utensils, recipes and more. | Bamboo kitchen cart with wheeled base for flexibility, offering essential features built-in to make the most of your space. Top tier features a cutting board and handle for tea towels and easy steering. Middle tier features a tray with side handles that lifts out for breakfast-in-bed. Base features slatted construction for storing pots, pans + more. Base is designed with 2 locking heavy-duty casters for stability. | Display your record player and speakers on this metal-framed media stand. Featuring three shelf tiers with manufactured wood tabletops, perfect for displaying your sound system, books, art pieces and more |
| | |
| --- | --- |
| | |
| Barkley Kitchen Cart | Wesley Storage Cart |
| Bamboo-framed storage cart, perfect for kitchen essentials, skin care and so much more. Rolling cart features a top tray, made from MDF with 2 wire baskets underneath. | Three-tier metal storage cart with a versatile construction perfect for tucking away your getting-ready necessities in a minimalist package. Tiered construction features three shelves, set on wheels to roll wherever you need it and equipped with inlaid cups for holding styling tools, brushes + more! |
| | | |
| --- | --- | --- |
| | | |
| Connected Goods Lou Zig Zag Belly Basket | Haden Storage Cart | Tempaper Marrakesh Self-Adhesive, Removable Wallpaper, Single Roll |
| Conquer your clutter with these easy collapsible belly baskets. The perfect catch-all storage basket. Handmade by village artisans with recycled paper to create the interesting visual zig zag design. | Add essential storage to your small space with this three-tiered cart. Featuring a metal structure with arched sides and gridded edges at each compartment, set on rolling wheels. Perfect for storing kitchen essentials, art supplies and more. | A nod to Morocco, with a graceful, open Arabesque pattern in glowing metallic bronze. Peel and stick application. Easy to remove. Water-based adhesive |
| | | |
| --- | --- | --- |
| | | |
| Three Tier Hanging Basket | Hand Bracket Wall Shelf | Shelby Mug Wall Shelf |
| Wood + cotton netted 3-tiered hanging basket, found exclusively at UO. Three concentric baskets in a tiered construction, perfect for displaying fruit + plants in the kitchen with cotton net for base + edges with rounded wooden structure | Hold up your favorite little treasures with this mango wood wall shelf, featuring iron hand-shaped brackets wrapping up from base | Show off your collection of mugs and stemware with this wall shelf featuring a metal base rung with hooks for holding your faves. |
| | | |
| --- | --- | --- |
| | | |
| Daniella Buffet | Recycling Station Bag Set | Connected Goods Handmade Copper Chime |
| Designed here at our home office in Philadelphia, PA, this beautiful collection showcases our signature whimsy and charm. With an all-over motif of brass inlay stems and mother-of-pearl blooms, it's intrinsically feminine and romantic - and it's a versatile storage piece that can serve as a home for dinnerware, sweaters, and more. | Recycle like a total pro with this trio set of reusable bags that will help separate by material. | This rustic copper bell chime is beautifully crafted by village artisans with upcycled materials. Enjoy soothing sounds of the gentle wood clackers and stunning raw texture in the home or garden. |
| | |
| --- | --- |
| | |
| Levon Entryway Storage Unit | Upholstered Bamboo Storage Bench |
| Entryway storage unit, perfect for housing your favorite bags and kicks at the door with an industrial-modern feel. With an angular iron structure, featuring a 3-compartment shelf at base and round mirror at top. Customize the design by adjusting the mirrorís high between two levels. | Maximize your space with this bamboo bench featuring an upholstered seat and storage shelving underneath. Lift up the bench seat to reveal a hidden compartment. Fitted with side handles and three open, slatted compartments at base for storing shoes, books and more |
| | | |
| --- | --- | --- |
| | | |
| Ella Multi-Hook Wall Shelf | Franklin Corner Riser Shelf | Igloo Playmate Checkerboard Cooler |
| Mango wood wall shelf featuring an ovular metal bracket set at an angle with hooks along bottom edge for holding necklaces, scarves and more while displaying your favorite little plants and trinkets. | Compact ledge that fits neatly into corners on your countertops or desk space, perfect for using levels to store spices, supplies and more. | A classic for picnics and pool days, this Playmate Cooler from Igloo features a retro checkerboard print with the original design you know and love. Top with handle hinges open from button to reveal whatever snacks you packed. With a pebbled texture. Fits up to 6 12 oz cans. |
| | | |
| --- | --- | --- |
| | | |
| Round Top Step Trash Can | Modern Foldable Dish Drainer Tray | Modern Dish Drainer Rack |
| Step-to-open cylindrical metal trash can. With a hinged lid and sleekly modern design perfect for any bathroom. | Drain water from freshly-cleaned dishes so effortlessly with this sleekly modern tray, featuring a slotted base and gently sloped design that sends water right into the sink. Even better? It folds up when not in use so itís a cinch to store. | Keep your countertop looking so coolly minimalist, even when youíre doing the dishes, thanks to this draining rack. Features a base tray and wire structure with wooden side handles, detailed with slots for plates, bowls and more. Complete with a utensil cup. |
Stain-, mold- and mildew-resistant Indoor/outdoor mat Vinyl Wipe clean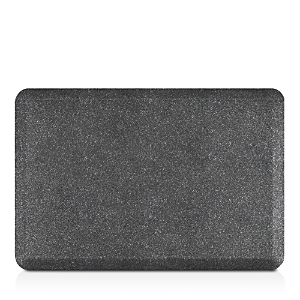 WellnessMat Granite Anti Fatigue Mat, 3' x 2'
Unmatched for cushioned comfort, WellnessMat's anti-fatigue mats add an extra layer of support underfoot in the kitchen or bath. Crafted using Advanced Polyurethane Technology for lasting softness and durability, each mat is designed to lie flat and reverses to a sturdy nonslip material
Go to:
Add Global Luxury to your favorites