Home Office Furniture with Global Inspiration
Home office furniture that will inspire your best work. Whether you have a serious home office, need a special place to organize and communicate or place for study, the right furniture and accessories will make it easier. Get inspired with colorful and relaxed Home Office Furniture, Desk Lamps, Desk Accessories, Organization
| | | |
| --- | --- | --- |
| | | |
| Optical Inlay Desk | Anders Storage Cabinet | Optical Inlay Desk |
| Just three and a half feet wide, our new Optical Inlay Desk, featuring bone inlay, an eye-catching teal knee well, and brushed brass hardware - is the new work buddy you need. | With defining glass doors and a solid black frame, this storage piece offers a fresh twist on traditional cupboards, display cases, and bookshelves alike. With ample shelving within its sleek, versatile design, it functions beautifully in any room of the home. | Just three and a half feet wide, our new Optical Inlay Desk, featuring bone inlay, an eye-catching teal knee well, and brushed brass hardware - is the new work buddy you need. |
| | | |
| --- | --- | --- |
| | | |
| Mid-Century Fold Out Desk | Kalmar Desk Chair | Kirby Desk |
| Essential fold-out desk to optimize storage + work space in any apartment or small living area. Solid + durable design constructed from a natural finish mango wood that folds out when you need it + tucks away when you don't. Features secret storage compartments that lift to reveal plenty of room for pencils, paper + more. Modern + rustic touch to any living space. | While out to dinner one night in Ho Chi Minh City, our buyers happened upon District Eight, a tucked away design store full of striking, minimalist pieces. Using a special process, the shop's artists smoke reclaimed wood until it acquires their signature rich finish. Waxed cotton canvas upholstery gives a hint softness to the steel frame of this industrial-influenced chair. | Crafted from manufactured wood with metal framing, the Kirby Desk features an industrial look with storage shelving. Featuring a flat tabletop with two storage shelves along right side and angular metal framing. |
| | | |
| --- | --- | --- |
| | | |
| Hand-carved Wooden Stool | Kirby Hutch Desk | Odetta Desk |
| Featuring globally inspired motifs, this hand carved stool brings a touch of organic artistry into your space. With a slightly tapered silhouette, it functions beautifully as a bedside piece, a stool, or a side table for your living room. | Crafted from manufactured wood with metal framing, this desk features an industrial look with storage shelving and an overhead hutch. Featuring a flat tabletop with two storage shelves along the side and angular metal framing underneath a long top shelf. | With an elevated grasscloth-inspired texture throughout, this stunning collection is accented with feminine, elliptical brass and Lucite knobs etched with fine detail. |
| | | |
| --- | --- | --- |
| | | |
| Washed Wood Desk | Rooney Desk | Kalmar Wall Mounted Bookshelf |
| A weathered finish gives this smooth, hardwood desk a rustic yet refined look. | The perfect spot for dreaming up big ideas and working like a pro, the Rooney Desk features an industrial-minimalist look with 6 pull drawers and a metal base. | Featuring smoked wood shelves and a steel frame that creates a striking, two-toned effect, this wall-mounted shelf makes a cherished spot for books, display objects, and more. |
| | | |
| --- | --- | --- |
| | | |
| Murray Wall-Mounted Desk | Painted Floral Wood Chair | Holli Zollinger For Deny Desert Moonflower Credenza |
| The perfect companion for creatives in small spaces, this wall-mounted desk features a compact construction that folds away when not in use. Features a 2-door cabinet at top for storing trinkets + tools and a pull-down door at bottom that adapts from storage into a desktop. | Femme and floral, this hand-painted wood chair is perfect for putting in a sunny corner in your space. With a minimalist silhouette featuring angular legs with a bar support and slab back, covered allover in ditsy florals. | eny Designs is an ever-changing collective of talented artists who churn out fresh, statement-making pieces, all proudly made in the USA with a portion of each purchase supporting art communities worldwide. This Baltic birch credenza features swinging doors at the front, topped with a desert moonflower print by artist Holli Zollinger. In a smooth gloss finish with an adjustable shelf inside, it sits on removable metal legs with a lacquered gold finish. This versatile statement piece can be used as a TV console, media stand, entry way credenza + so much more. |
| | | |
| --- | --- | --- |
| | | |
| Kennett Desk | Hand-Embossed Lotus Console | Fern Storage Cabinet |
| Rustic wood highlights a mid-century modern-inspired frame with this desk that sets the scene for major productivity. Features a storage drawer and tapering dowel legs set at a slight angle. | Intricate hand-embossed metal and a subtle finished shine give this eye-catching console a hint of antique luxury. | From its buttoned-up hardware to its arched silhouette perched upon ballooned feet, this storage cabinet exudes endless charm. Marble-topped drawers provide ample storage, which allow it to function as a display piece, china cabinet, hutch - or even as a wardrobe. |
| | | |
| --- | --- | --- |
| | | |
| Scroll Vine Inlay Vanity Table | Decker Five-Shelf Bookshelf | Hand-carved Lombok Shelving Unit |
| Perched atop the thin brass frame of this contemporary piece, lush, delicate foliage spirals and curves along a streamlined silhouette. | This minimalist delight of rustic iron and smooth tropical hardwood will add a quiet moment to the landscape of your living space, whether you prefer modern or classic decor. | Hand carved from tropical hardwood, this shelving unit is a true work of art. Its filigree-inspired cutouts create a breathable space where shadows and sunlight play, and shelves offer ample storage and display space for your favorite books, trinkets, and decorative accessories. |
| | | |
| --- | --- | --- |
| | | |
| Metal Tubing Desk | Cory Folding Desk | Perri Desk |
| Sleek metal desk with a stylish minimalist flair | Classic desk with an x-base that folds away for easy storage when you need extra space, and folds out when you're ready to get creative. Featuring a shelf for display and pull-out drawer. | Curate your workspace starting with this mid-century modern-inspired desk. Features a minimalist tabletop with dual pull-out drawers on either end and an open compartment for storage at the center. Propped on a base with tapering dowel legs. |
| | | |
| --- | --- | --- |
| | | |
| Ivy Filing Cabinet | Amelia Desk | Meredith Desk |
| Industrial shapes meet boho aesthetics with this sleek filing cabinet. Featuring a mango wood construction with woven cane panels at both pull-out drawers, topping a minimalist metal base. | Mango wood desk from our UO-exclusive Amelia collection with mid-century modern motifs. Featuring tapered legs with a flat tabletop and dual pull-out drawers for storing files and take-out menus. Highlights a natural finish with visible wood grain. | Breezy boho rattan desk, perfect for inspiring fresh thoughts and creative ideas. Simple desk with curving edges along tabletop and legs. |
| | | |
| --- | --- | --- |
| | | |
| Lombardi Adjustable Desk Chair | Jeremy Office Chair | Edith Velvet Desk Chair |
| An ergonomic, adjustable desk chair + gorgeous mid-century piece all-in-1? Dream no more. The Lombardi desk chair has it all with a cushy faux leather seat + supportive pintucked seat-back framed in birch wood with a richly varnished walnut veneer. On a boldly lacquered metal swivel base with a lever for adjusting to just the right height. | Faux leather office chair with a vintage-meets-modern look that upgrades your work from home sitch. Upholstered with light cushioning and featuring an adjustable height for the perfect posture at your desk space. | Work in style from this velvet desk chair, featuring oak wood arms and cushioning at seat and panel back. Topped on a metal wheeled base for easy mobility. |
| | | |
| --- | --- | --- |
| | | |
| Don Office Chair | Aidan Adjustable Desk Chair, Teal | Aidan Adjustable Desk Chair, Bright Yellow |
| The chicest way to get down to business, this office chair features poly microfiber upholstery with an animal print we love. Cushioned design with studded hardware, equipped with a wheeled base and gas lift mechanism for a height that adjusts to the perfect position. | While office furniture can be yawn-worthy, this comfy, color pop desk chair is quite the exception! Cushy seat includes a supportive back and full arms upholstered in vibrant textural tweed both elevated + fun. Finished with a sturdy trumpet base that swivels 360 degrees, compete with a lever for adjusting your seat to just the right height. | While office furniture can be yawn-worthy, this comfy, color pop desk chair is quite the exception! Cushy seat includes a supportive back and full arms upholstered in vibrant textural tweed both elevated + fun. Finished with a sturdy trumpet base that swivels 360 degrees, compete with a lever for adjusting your seat to just the right height. |
| | | |
| --- | --- | --- |
| | | |
| Rye Desk Lamp | Willow USB Desk Lamp | Margot Spotlight Table Lamp |
| Modernist desk lamp featuring a metal structure in a color pop finish. Features a conical shade, slim bar neck and round base equipped with a USB port to charge up your essential tech. | Metal desk lamp with built-in USB port, perfect for shining a light on your workspace with sleekly cool style. Plugs in to power on with inline rotary switch and USB port to charge up your tech. | Shine a spotlight on your work or specially curated display with this modernist spotlight table lamp. Features a bent metal base with a domed shade. Plugs in to power on. |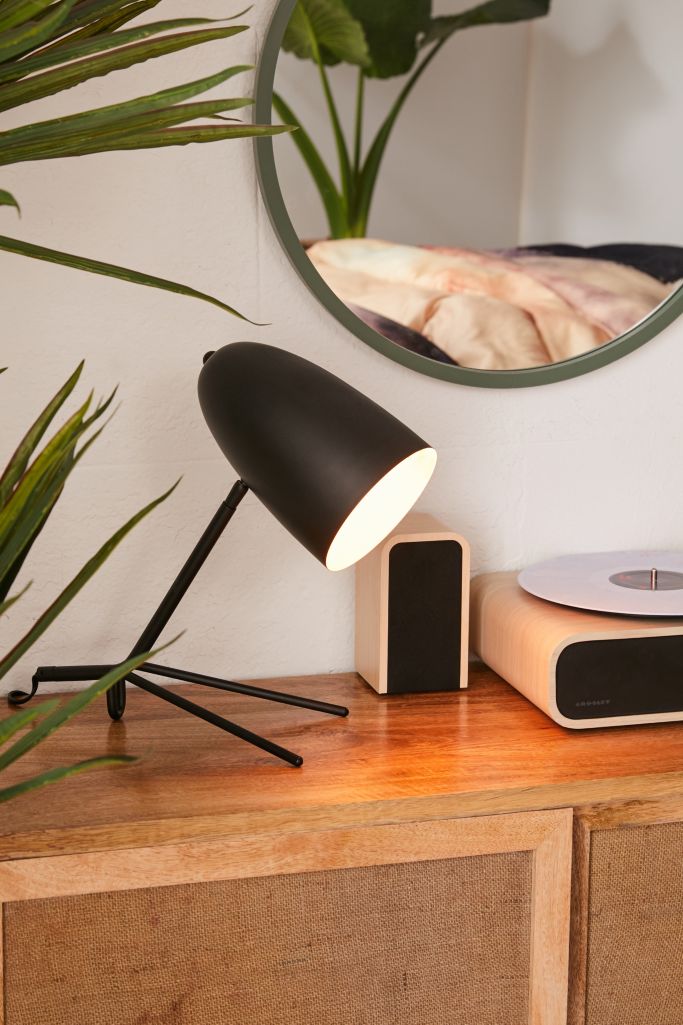 Jamison Desk Lamp
Modern lines with this industrial desk lamp. Employs mid-century style with smooth lines allover and no fuss. Featuring a round spotlight with a pronged stand and dimmable design with an integrated line switch
| | | |
| --- | --- | --- |
| | | |
| Shibori-Dyed Leather Passport Holder | Shibori-Dyed Leather iPhone Case | Shibori-Dyed Leather Luggage Tag |
| Offering a fresh take on the centuries-old Japanese dye technique of shibori, this leather passport holder is hand-dyed by artisans to produce spirited, one-of-a-kind patterns and motifs. | Offering a fresh take on the centuries-old Japanese dye technique of shibori, this leather iPhone case is hand-dyed by artisans to produce spirited, one-of-a-kind patterns and motifs. | Offering a fresh take on the centuries-old Japanese dye technique of shibori, this leather luggage tag is hand-dyed by artisans to produce spirited, one-of-a-kind patterns and motifs. |
| | | |
| --- | --- | --- |
| | | |
| Yes/No Leather Journal | Women's Empowerment iPhone Case | Change The Game Clipfolio |
| This stylish notebook features a thread-stitched and bound recycled leather cover that's playfully screenprinted with "YES" on the front and "NO" on the back. | Inspired by talented and hardworking women, this capsule collection celebrates the voices, achievements, and contributions of women far and wide - as well as the fearless journey of both individual and collective empowerment. Emblazoned with inspirational words, this subtly textured iPhone case serves as a daily reminder for strength and encouragement. | Inspired by talented and hardworking women, this capsule collection celebrates the voices, achievements, and contributions of women far and wide - as well as the fearless journey of both individual and collective empowerment. This handy clipfolio comes with fifty lined pages for meeting notes and to-dos, as well as a bold design that features words to inspire change within. |
| | | |
| --- | --- | --- |
| | | |
| Women's Empowerment Pencils, Set of 6 | Women's Empowerment Notebooks, Set of 3 | Women's Empowerment iPhone Case |
| Inspired by talented and hardworking women, this capsule collection celebrates the voices, achievements, and contributions of women far and wide - as well as the fearless journey of both individual and collective empowerment. Writing in standard #2 gray graphite, this assorted pack of colorful pencils feature phrases to inspire you throughout the day. | Inspired by talented and hardworking women, this capsule collection celebrates the voices, achievements, and contributions of women far and wide - as well as the fearless journey of both individual and collective empowerment. Emblazoned with inspirational phrases, this set of notebooks is perfect for jotting down notes, lists, and to-dos while serving as a reminder for strength and encouragement. | Inspired by talented and hardworking women, this capsule collection celebrates the voices, achievements, and contributions of women far and wide - as well as the fearless journey of both individual and collective empowerment. Emblazoned with inspirational words, this subtly textured iPhone case serves as a daily reminder for strength and encouragement. |
| | | |
| --- | --- | --- |
| | | |
| Desk Drawer Stacking Bins, Set of 5 | Shibori Leather Tech Pouch | Shibori-Dyed Leather Journal |
| Add a pop of color to your drawers or desktop with these stackable organizers suited to fit an assortment of desk accessories. Best of all? They come in a variety of sizes and feature protective bottoms that keep them firmly in place. | Showcasing the centuries-old tradition of shibori dyeing, this leather pouch is a stylish way to transport your laptop and charger, headphones, and other tech accessories. | Featuring a beautiful hand-dyed leather cover, this journal is the perfect place to write out your best thoughts, ideas, and dreams. |
| | |
| --- | --- |
| | |
| Nambe Tablet Stand | Safari Playing Cards |
| Nambe's tablet stand makes a sleek, ultra-modern statement. 4.5" D. x 1.5" H.; stylus is 3.5". Silverplate; rubber-tipped stylus | This safari-inspired playing card set features zebras, toucans, and leopards, oh my! Fit in an acrylic case, you can easily bring them anywhere - from the beach to the park. |
| | | |
| --- | --- | --- |
| | | |
| Minimalist Trinket Dish | Acrylic Three-Hole Punch | Matte Black Scissors, Stapler |
| Inspired by minimalist shapes, this resin-crafted dish makes a stylish catchall for a drawer, desk, or entryway console. | Crafted from polished acrylic with gold-finished hardware, this three-hole punch is a chic, functional accessory for your home desk. | Featuring a matte black design, this desk collection lends a minimalist, contemporary aesthetic to your home workspace or desk. |
| | | |
| --- | --- | --- |
| | | |
| Acrylic Dry Erase Memo Tablet | Idna Trinket Dish | HANDLstick Metallic Phone Grip & Stand |
| This acrylic memo tablet offers a sleek, functional way to write daily to-do's, grocery lists, or morning messages for loved ones. Use a dry-erase marker to write, and simply erase with a damp cloth. | Handcrafted in Spain, this porcelain trinket dish adds a touch of charm to a coffee table, console, or bookshelf. | Born from the innovative mind of NYC-based artist Allen Hirsch, HANDL offers innovative grip system technology that allows you to hold your device with ease. Providing the freedom of a natural, comfortable grip, HANDL cases and accessories feature a design that sits flush against the back of your phone when not in use, and also function as a kickstand for landscape mode thatâ??s convenient when snapping timed photos or viewing videos. |
| | | |
| --- | --- | --- |
| | | |
| Polly Basket | Furoshiki Wrapping Cloth | Envelope Sticky Notes |
| With a sturdy wire frame, this durable basket offers convenient storage for a bedroom, living room, or mudroom. | Dating back centuries, furoshiki is a traditional Japanese wrapping cloth used to cover gifts, transport items, and hold belongings - depending on the technique of folding and tying. The modern resurgence of this ancient craft can be attributed to its eco-friendly characteristics, as is provides a sustainable, reusable, and versatile alternative to gift wrap, plastic bags, and more. 100% cotton. Japan | Crafted in Japan, this set of sticky notes features a handy snap closure for keeping them safe in your backpack, work bag, or at your desk. |
| | | |
| --- | --- | --- |
| | | |
| Fill-In-The-Blank Postcards, Set of 6 | Words To Live By Journal | Infinite Bloom Puzzle |
| With a fill-in-the-blank design, this charming postcard set offers a fun way for little ones to stay in touch with family and friends. | Focusing on a different word for the 52 weeks of the year, this journal offers helpful prompts, uplifting quotations, and inspiration about how to pursue self-discovery. | Perfect for family game night, this 500-piece puzzle features a vibrant blooming scene. 500 pieces. Recycled cardboard. USA |
| | | |
| --- | --- | --- |
| | | |
| Dream Journal | Beautiful Thoughts Postcards | Gratitude Journal |
| With a pretty book cloth cover and an elegant ballpoint pen, this journal features prompted pages that invite you look introspectively. Includes one gold pen and pen loop. Flexicover; canvas, paper. 192 pages | Find and share the perfect words for any occasion with this set of 60 postcards featuring quotes from writers, artists, dreamers, and doers. Fit in a beautiful keepsake box with a hinged lid, it's conveniently organized into five tabs: Inspire, Appreciate, Celebrate, Love, and Connect. Set of 60 postcards | With a pretty book cloth cover and an elegant ballpoint pen, this journal features prompted pages that invite you to acknowledge moments of gratitude. Includes one gold pen and pen loop. Flexicover; canvas, paper. 192 pages |
Molly Drawer Organizer Set
Cloud Desk Tray
Cloud Desk Organizer
Bali Desk Organizer
Keep your essentials in the right place with this duo set of silicone drawer organizers. Rectangular design with rounded edges.
Organize papers and writing utensils on this tinted, dimpled glass desk tray. Rectangular tray features raised edges with cutout handles at sides for easy carrying. Store work supplies, trinkets, pens and more in this organizer featuring slanted compartments and cubbies along the tinted, dimpled glass design
Woven desk organizer that lends your workspace a boho feel we love. Basket woven with straight edges and room for pens, sticky notes and so much more.
| | | |
| --- | --- | --- |
| | | |
| Gentlemen's Hardware 6-in-1 Tooling Pen | Just For Today Journal | Royce New York Suede Lined Catch-All Tray |
| With a passion for building durable and responsible goods that equip modern gentlemen for the rigors of life, Gentlemen's Hardware produces everything from multi-tools to grooming accessories - all crafted by energetic pioneers who share a commitment to quality, function, and style. Includes a level, ruler, screwdrivers, touch-screen stylus, and ballpoint pen | For good days, difficult days, and everything in-between, this guided journal features space for recording everyday highs and lows, exercises for easing anxiety and stress, and inspirational words throughout. Hardcover; paper, ribbon. 112 pages | 4"W x 4"D x 1"H. Packaged in a signature ROYCE New York gift box. Designed in New York City and handcrafted to ensure decades of enduring use. 100% genuine leather |
| | | |
| --- | --- | --- |
| | | |
| Harper 2020-2021 Planner | Alanza 2020-2021 Planner | Go Get 'Em Tiger 2020-2021 Planner |
| Fit with an elastic band and a matching pen, this agenda helps you plan out your days - as well as career, finance, and personal goals - for the next 17 months. | This vibrant agenda comes equipped with a metal pen and fun patterned pages that help you plan out your next 17 months. | Featuring a fierce tiger design, this stylish 18-month planner helps you plan for this year and next. |
| | | |
| --- | --- | --- |
| | | |
| Rose Desert Fringe Basket | Shuri Tufted Basket | Yara Basket |
| Made in an ethical, fair trade environment and rooted in local tradition, this basket was handwoven by groups of women in small communities across Rwanda. Each textural piece features a tag profiling the weaver who took weeks to craft the product by hand, and is ready to display in your home. | Taking cues from tufted rugs, this basket makes a stylish storage solution for any interior. | Overflowing with charm, this basket features delicate pommed trim paired with eye-catching patterns. |
| | |
| --- | --- |
| | |
| Harvest Basket | Letitia Basket |
| Whether for storing blankets, crafting supplies, or toys, this hand-woven basket fits effortlessly into any home's decor. Best of all? Its handles make it easy to transport from room to room. | Featuring playful tufts, this basket is a perfect storage addition for a bedroom, closet, or living room. |
| | | |
| --- | --- | --- |
| | | |
| Braided Denim Basket | Galvanized Metal Bins, Set of 3 | Charlie Entryway Multi-Hook Wall Shelf |
| Crafted from braided denim, this basket brings an intriguing tactile quality to storing blankets, towels, games, and more. | Whether used in a home office or bedroom, this stackable set of galvanized metal bins offer a modern storage solution. | Keep everything in the perfect spot with this entryway organizer, featuring a mirror for last looks before you head out the door, a chalkboard for memos and magnets, a ledge shelf for your wallet and hooks for your keys, bag and other essentials. |
Go to:
Add Global Luxury to your favorites