Asia Pacific Style Gifts
Gifts inspired by Asia and the Pacific. Unusual gifts for all occasions. Go to: Asian Gifts, Island Style Gifts, Teapots and Tea Sets
Decorative teapots. Pretty enough to display when not in use. A fun gift for fellow tea drinkers. In the East, elaborate rituals have developed around the proper preparation, presentation and drinking of tea. There is ongoing research on the possible cancer-preventing properties of tea prompted by the much lower incidence of cancer among tea drinker. At a minimum, waiting for water to boil, tea leaves to open and then just sipping it quietly or with friends would seem to encourage calm and thoughtfulness. Whether you drink green tea or black, alone or with friends, we wish you health and peace.
| | | |
| --- | --- | --- |
| | | |
| Naturopathica Stress Tea | Glenna Teapot, Creamer, Sugar Pot | Botanica Teapot, Creamer, Sugar Pot, Platter, Pitcher |
| This relaxing tea, infused with soothing chamomile and adaptogenic herbs, is thought to help promote mental clarity and a healthy response to stress from the inside out. | Crafted in Italy and exclusively ours, a rustic, lightly weathered finish distinguishes this timeless serveware. Earthenware. Dishwasher and microwave safe | Hand-painted stoneware |
| | | |
| --- | --- | --- |
| | | |
| Miranda Kerr for Royal Albert 3-Piece Friendship Tea Set | Butterfly Bloom Tea Collection | Lenox Butterfly Meadow 7-Piece Tea Set |
| 3-piece set includes creamer, sugar bowl, and teapot. Fine bone china. 22-kt. gold accents. Hand wash. | The latest addition to the Wedgwood Harlequin Tea Story, the Butterfly Bloom serveware is an eclectic mix of vintage-inspired colors, patterns and shapes finely detailed on bone china with elegant gold rims. It's exquisitely boxed in signature Wedgwood packaging to make a fabulous gift for any true tea lover. | Set includes: teapot with lid, two teacups with saucers, creamer and sugar bowl with lid. Based on the artistry of Louis Le Luyer, this trademark design features lively butterflies, dragonflies and buzzing bumblebees with bright flowers |
| | | |
| --- | --- | --- |
| | | |
| Lenox Blue Bay Teapot | Iittala Teema Teapot | Carrara Teapot |
| Solid white with blue tiny dot design | Porcelain. Dishwasher safe | The combination between porcelain and drawings inspired by the noble marble of Carrara, a very refined, geometric approach, creates the illusion that each piece of the set is interchangeable. An unexpected collection created by French designer Coline le Corre. Enhanced with hand-painted gold accents. Handcrafted teapot made of porcelain. Enhanced with gold. Hand painted elements. Holds 37.5 ounces. Approx. 9.61"L x 6.1"D x 3.94"T. |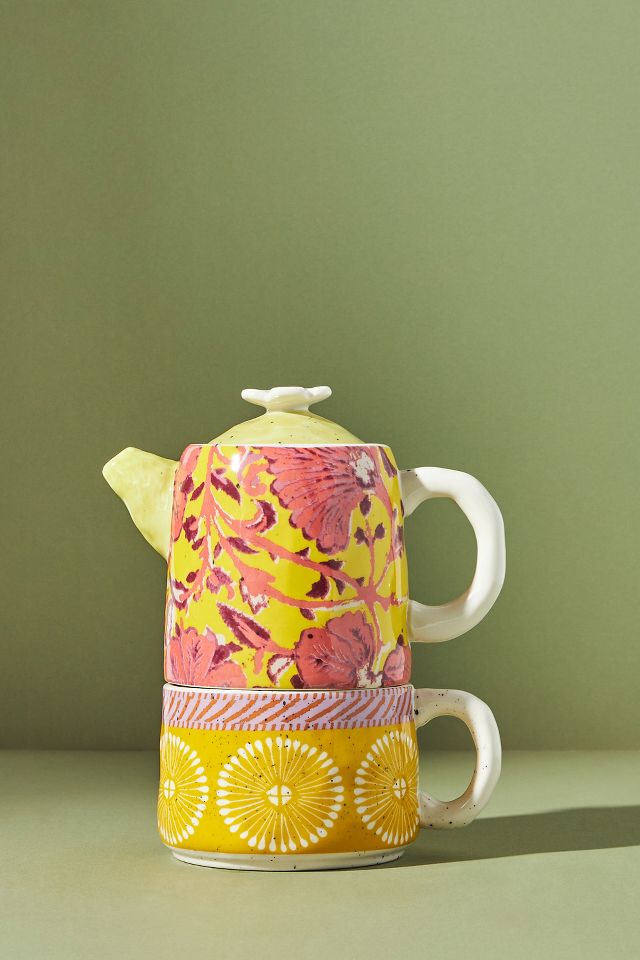 Mother's Day Tea-for-One Set
This Mother's Day (and every other day), show Mom how much you care with this charming set she'll reach for morning after morning.
| | |
| --- | --- |
| | |
| Bird Kite | The Vault Document Organizer |
| Fun for kids (and grown-ups too!), this handcrafted kite is the perfect companion for a windy day at the park. | Keep your most important documents safe and organized in this beautifully designed keepsake box. Featuring vertical files for documents, drawers for smaller trinkets, and illustrated labels, this minimalist organizer gives you peace of mind, while beautifully integrating with any modern interior. |
| | | |
| --- | --- | --- |
| | | |
| Living In Nature | Quilted Cornhole Game | Colorblocked Checkers Game |
| A collection of architect-designed contemporary homes, each of the fifty showcased houses peacefully exist within nature. Whether surrounded by water, enveloped in desert heat, or high amongst the trees, these homes offer serenity and inspiration to all who view them. | The perfect addition to any outdoor gathering, this cornhole set adds an element of competitive fun to any picnic at the park or backyard barbecue. Better yet? It comes with a tote bag for easy transporting. | Offering a one-of-a-kind twist on classic checkers, this handcrafted version features a woven board and wooden playing pieces. |
| | | |
| --- | --- | --- |
| | | |
| Oasis: Modern Desert Homes Around The World | My Cool Kitchen | Tiny Hotels |
| This stunning tour of the world's most beautiful desert homes works as inspiration to create your own desert oasis, wherever you are. | The kitchen is the heart of the home, the spot where friends and family gather, visit, and share food. Kitchens are meant to reflect our loves, interests, and journeys, showcasing the design styles and materials that make us feel most at home. This book features beautiful images of unique, creative kitchens, and offers affordable and stylish tips that will inspire anyone to transform their kitchen into the room of their dreams. | They say good things come in small packages, and this collection of hotels is no exception. Featuring 40 mini hotels from around the world, each one presents a truly unique getaway and captures the charm and wonder of the location - from Florence to Tokyo to Alaska. |
| | | |
| --- | --- | --- |
| | | |
| Kitchen Notebooks, Set of 3 | Floral Bookmark Greeting Card | Rashida Journal |
| Set of three | Mark your page with this charming floral-shaped bookmark perfect for lovers of novels, gardens, and all things beautiful. Better yet? Each bookmark comes with a printed greeting card for easy gifting. | Handcrafted of paper from recycled cotton fabric, this printed journal is a thoughtful gift for any student, writer, and dreamer |
| | | |
| --- | --- | --- |
| | | |
| Feast By Firelight | Wellness Tracker Notepad | 100 Interiors Around The World |
| Whip up easy, but delicious, meals on your next adventure in the great outdoors with this helpful guide. | Improve your physical and mental well-being through weekly planning and reflection with this 52-week, tear-off notepad. Made with a blush binding and gold foil stamp, this wellness tracker can be used to plan meals, exercise, and everything in-between - all while working to develop personal self-care rituals and daily affirmations. | Featuring stunning photographs of interiors from around the globe, this edition showcases and celebrates every unique design style, from minimalist to rustic to eclectic. |
| | | |
| --- | --- | --- |
| | | |
| Interiors | The Garden | Holiday |
| Hardcover. 448 pages. Phaidon | Hardcover. 304 pages. Phaidon | The first book on iconic magazine Holiday - which illustrated the allure of travel like no other periodical from 1946 to 1977 - this book is made for the wanderlust spirit. With bold layouts, literary credibility, and an accomplished collection of photographers and artists, it makes a thoughtful gift for the photog or traveler this holiday season. |
| | | |
| --- | --- | --- |
| | | |
| Lush Life | Sheet Cake | Vivid |
| This California-inspired cookbook teaches readers to grow their own food and cook it fresh with 156 seasonal recipes from family meals to cocktails. | Offering a new take on fuss-free baking, this book comes with 50 recipes that put an inventive spin on classic cakes that use one pan and minimal supplies. | A celebration of color in the world of design and our everyday lives, this book features eight chapters divided by color: orange, red, green, blue, pink, yellow, neutrals, and black. |
| | | |
| --- | --- | --- |
| | | |
| The Self-Care Planner | La Vita E Dolce | Beautiful Platters & Delicious Boards |
| Undated for 13 weeks of self-care goals, this wellness planner helps you mindfully design your day, week, and month while feeling healthy and happy every step of the way. | La Vita e Dolce is an exciting take on Italian baking by food writer and trained pastry chef, Letitia Clark. Featuring over 80 Italian desserts, Dolce showcases Letitia's favorite recipes inspired by her time living in Sardinia. | Whether it's an assortment of cheese for a dinner party or an afternoon nibble of nuts and sliced fruit, serving up anything on a board instantly elevates any moment. |
| | | |
| --- | --- | --- |
| | | |
| Lucie de Moyencourt Shell Vase | 18" Lime Gills Fish Plate | 18" Red Fish Plate |
| Surrounded by the serene seaside of Cape Town, South African-based artist Lucie de Moyencourt's latest collection is inspired by mystical mermaids and the ocean's mysteries. With experience in painting, illustration, set design, and architecture, the artist has crafted one-of-a-kind, only-at-Anthro pieces that lend charm to every interior. | Looking for the right decor piece to finish your room. These fused art glass pieces have all the artistry and detail of studio gallery pieces at an affordable price. Select the luminous colors and captivating shapes to accentuate any room. | Looking for the right decor piece to finish your room. These fused art glass pieces have all the artistry and detail of studio gallery pieces at an affordable price. Select the luminous colors and captivating shapes to accentuate any room. |
| | | |
| --- | --- | --- |
| | | |
| Voluspa Mokara Scalloped-Edge Candle and Diffuser Gift Set | Boxed Arcade Mugs, Set Of 4 | FarmSteady Hard Cider Making Kit |
| Mokara orchid and white lily pair with notes of fresh spring moss in this aromatic home fragrance set. | Make every morning cuppa feel like a roman holiday. Inspired by the storied arches of the coliseum, Jonathan Adler "Arcade" mugs reimagine an iconic architectural motif in moody curves and colors. Crafted from glossy high-fired porcelain and packaged in a couture gift box. Set of four mugs, made of porcelain. Dishwasher and microwave safe | What could beat the refreshing taste of a cold glass of hard apple cider? Making it yourself! Our Hard Cider Kit has everything you need (other than some fresh cider) for 3 batches of tart, dry and bubbly hard cider. Making hard cider is even easier than making beer and making beer is pretty easy! USA |
| | | |
| --- | --- | --- |
| | | |
| NAO TESUKI WASHI Naowashi White Folding Fan | Takenaka Bento Box | Urushi Japanese Hand-Applied Lacquer Thermos, Red |
| This is an original fan of Nao Tesuki Washi, which is dyed by hand. The greatest feature of this fan is its lightness — it weighs only one ounce, which is about the same as a AA battery and half the weight of a standard cloth fan. It is a long-selling product of Namao Tesuki Washi and is recommended as a gift. Folding fan, made of Japanese traditional paper (Washi) and bamboo | This traditional bento box provides plenty of storage for food - with its two-tiered structure - fastens with a secure band that keeps everything in its place. Polyethylene terephthalate, polyethylene. Dishwasher and microwave safe | Handcrafted thermo mug is made of durable 18/10 stainless steel with "Choju-Giga" motif that represents a character in a Japanese scroll painting drawn in the 16th century. Japan |
| | | |
| --- | --- | --- |
| | | |
| The Japanese Garden | Gold Paper Washi And Pulp Money Envelope | Red Paper Washi And Pulp Money Envelope |
| Covering more than eight centuries of the art of the Japanese garden, this book features fresh insights, a series of detailed essays by artists and architects, and 100 beautiful gardens - ranging in style from contemporary Zen to ancient Shinto shrines. | A congratulatory gift envelope made of Mino washi, a traditional technique of Mino handmade washi with a history of 1,300 years blended with a modern technique. The dignity and elegance of these bags are perfect for celebrations. Made in Japan | A congratulatory gift envelope made of Mino washi, a traditional technique of Mino handmade washi with a history of 1,300 years blended with a modern technique. The dignity and elegance of these bags are perfect for celebrations. Made in Japan |
| | | |
| --- | --- | --- |
| | | |
| Voluspa Japonica 5-Piece Macaron Candle Gift Set | Furoshiki Gift Wrapping Cloth | Colorplay Chinese Checkers Game |
| Includes one of each Japonica Collection fragrance: Goji & Tarocco Orange, Baltic Amber, French Cade Lavender, Yashioka Gardenia and Mokara | Dating back centuries, furoshiki is a traditional Japanese wrapping cloth used to cover gifts, transport items, and hold belongings - depending on the technique of folding and tying. The modern resurgence of this ancient craft can be attributed to its eco-friendly characteristics, as it provides a sustainable, reusable, and versatile alternative to gift wrap, plastic bags, and more. | Featuring a vibrantly colored finish, this board game is a staple for the many family nights to come. Includes 60 pieces and one game board |
| | | |
| --- | --- | --- |
| | | |
| Shades of Sea Glass & Opal Hoop Earrings | Kintsugi Rectangular Tray | L'Objet Lito Eye Canapé Plate |
| Brass, cubic zirconia, glass, opal | This ancient Japanese art form called "Kintsugi" from the 16th century, was used to make visible repairs on ceramic. It was made with a mix of lacquer and gold to give it an even greater aesthetic value. Handcrafted rectangular tray features a mix of lacquer and golden tones. Made of porcelain. Approx. 6.7"L x 5.9"W. Hand wash. Made in France. | Third-eye talisman design, symbolizing protection against negative energy and good luck Inlaid resin details, 24K gold plating |
| | | |
| --- | --- | --- |
| | | |
| Villeroy & Boch New Wave Sushi for Two Set | Hinoki Wood Chip Sachet | Kasumi 8" Gyuto/Chef's Knife |
| Add a New Wave of vibrance to your table setting with this innovative collection. Distinguished by angular shapes in fluid wave designs, pieces work together for imaginative presentation. | Prized for its fragrance, beauty and therapeutic properties, Hinoki cypress has been used for centuries. Soak chips in a calming bath, keep sachets in drawers to deodorize, or nest in a pillow to invite a deep, soothing sleep. | KASUMI knives are hand crafted in Seki City, Japan, by the Sumikama family, a 27th generation family of knife makers. 32 layers of Stainless steel make these knives very durable. Western Style bevel with a 15 degree angle that is sharper and last longer then European style knives. VG 10 Stainless steel hardened to Rockwell C59-60 will maintain its edge longer. The handles are made of a durable resin which is made from multiple layers of wood provides a comfortable grip. |
| | | |
| --- | --- | --- |
| | | |
| slip Silk Pillowcases | slip for beauty sleep Silk Pillowcase, Standard | Gingerlily Silk Face Mask |
| Slipsilk is so gentle on your hair, it allows your hairstyle or blow-dry to last overnight. Unlike cotton, which draws moisture from your face, hair and scalp, slipsilk breathes and is a natural temperature regulator. Slip uses the highest grade (6A) long-fibre mulberry silk, with a thickness of 22 momme and enforces the strictest quality guidelines, including non-toxic dyes. | Cotton grabs your hair and twists it at the root throughout the night, damaging hair and causing bed-head in the morning, whereas slipsilk is so gentle on your hair, it allows your hairstyle or blow-dry to last overnight. Unlike cotton, which draws moisture from your face, hair and scalp, slipsilk breathes and is a natural temperature regulator. Slipsilk is specially-commissioned and made to Slip's exacting standards, developed and refined over ten years to provide the ultimate combination of shine, thickness, softness and durability. Slip uses the highest grade (6A) long-fibre mulberry silk, with a thickness of 22 momme and enforces the strictest quality guidelines, including non-toxic dyes. | One size fits most adults. High-density silk construction. Three-layer design with elasticized ear loops |
Go to:
Add Global Luxury to your favorites