Effortless Fashion for Women
Relaxed dressing for the modern woman. Inspired by world travel and modern ease of dressing. On-the-go style for effortless chic. Go to: Farm Rio, Dolan Left Coast, Sunday in Brooklyn, Let Me Be, Roopa Pemmaraju, Hemant & Nandita, dRA, Cleobella
What began as a handful of goods at a local fashion fair booth has grown into one of Brazil's most recognizable labels for sun-soaked dressing. With vibrant colors, bold silhouettes, and feminine details embedded in every design, Farm Rio's cheerful creations are crafted with an exotic, toes-in-the-sand spirit that's simultaneously fashion-forward and vintage-inspired.
| | | |
| --- | --- | --- |
| | | |
| Farm Rio Fatima Tiered Midi Skirt | Farm Rio Toucan Tiered Mini Dress | Farm Rio Nieves Cover-Up Tunic Dress |
| Adorned with eye-catching flora and fauna, this skirt brings a splash of color to everyday looks - style it with a slouchy sweater and flats for a polished, feminine finish. | Featuring a flock of fantastically feathered toucans, this vibrant dress is a chic addition to any warm-weather closet. | Here, eye-catching florals contrast with a moody black backdrop, infusing poolside ensembles with both sweetness and sophistication. |
| | | |
| --- | --- | --- |
| | | |
| Farm Rio Bianca Blouse | Farm Rio Teresita Blouse | Farm Rio Magdalena Wide-Leg Pants |
| Our feminine blouses are lovely enough on their own, but even better when styled with a few only-at-Anthro favorites - think eye-catching headbands and thoughtfully crafted charms. | Invite a dash of darling to your wardrobe with this printed peasant blouse, where bouquets of florals hint at warmer days yet to come. | Viscose |
| | | |
| --- | --- | --- |
| | | |
| Farm Rio Mirana Jumpsuit | Farm Rio Larissa Velvet Blouse | Farm Rio Amore Maxi Skirt |
| Adorned with an abundance of playful polka dots, this jumpsuit is a striking pick for work-at-home days and seasonal occasions | Featuring dreamy florals and a plush velvet finish, this blouse is sure to be beloved throughout the season. | Bring a bit of amore to date night with this darling maxi skirt — adorned with an abundance of dainty hearts, it lends a loving touch to any ensemble. |
Combining feminine details with timeless silhouettes, Let Me Be's dreamy collection is crafted from the finest of fabrics and embellished with handcrafted beadwork and embroidery.
| | | |
| --- | --- | --- |
| | | |
| Jemma Tunic Dress | Isabelle Ruffled Pullover | Lynsey Smocked Lace-Up Midi Skirt |
| With a feminine print and a dreamy silhouette, this tunic dress is an elegant staple for the season. | You're sure to dazzle friends and family in this sweetly ruffled layer, where feminine flourishes impart an air of easy sophistication. | Smocked details and a lace-up waist infuse this skirt with dreamy, boho-chic flair. |
| | | |
| --- | --- | --- |
| | | |
| Celeste Mini Dress | Letizia Colorblocked Mini Dress | Kenna Mini Skirt |
| Ruffled touches infuse this dress with plenty of whimsy and charm, while puffed sleeves promise elegance for any seasonal occasion. | Complete with tiers of sunset tones and bow-tie straps, this dress imparts an air of playfulness and femininity. Style it with slides and gold hoops for a charming, ready-for-anything ensemble. | Dainty florals and an oh-so-flouncy fit ensure this mini will be a wardrobe staple. |
| | | |
| --- | --- | --- |
| | | |
| Odette Maxi Dress | Gretchen Floral Pants | Ivy Ruffled Mini Dress |
| With roomy sleeves, a striking motif, and a sweeping silhouette, this dress promises elegance and sweetness for all your occasions to come. | These floral-printed trousers lend a hint of springtime splendor to everyday looks - pair them with a buttondown or a graphic tee for laidback yet sophisticated style. | Ruffled touches at the neck and sleeves infuse this mini dress with feminine flair - style it with ankle boots for a charming ensemble that's sure to earn you compliments. |
| | | |
| --- | --- | --- |
| | | |
| Maple Ruffled Blouse | Everly Peplum Blouse | Zuri Cropped Cami |
| Cotton | Peplum is a cornerstone of modern womenswear, and for good reason - its feminine cut is both playful and refined. | Complete with tiers of springtime-ready hues and charming bow-tie straps, this cropped top pairs perfectly with its dainty matching skirt or your favorite pair of denim. |
| | | |
| --- | --- | --- |
| | | |
| Sydney Puff-Sleeved Top | Gina Twist-Front Top | Aiko Ruffled Blouse |
| Embrace the new year in this dreamy puff-sleeved top, where dainty florals invite a dash of springtime sweetness. | Cut just above the hip, this top's twist-front detail and lacy puffed sleeves make it a darling addition to your closet. | Sweetly adorned with handcrafted touches - think delicate ruffles and darling embroidered details - this blouse instantly elevates everyday looks. |
Antik Batik
After studying French design in Paris, Gabriella Cortese opted for the road less traveled and left the fashion world for Tibet, where she discovered the art of batik. Her love of Eastern design techniques led to an exploration of bandhani and embroidery, and the creation of her collection, Antik Batik.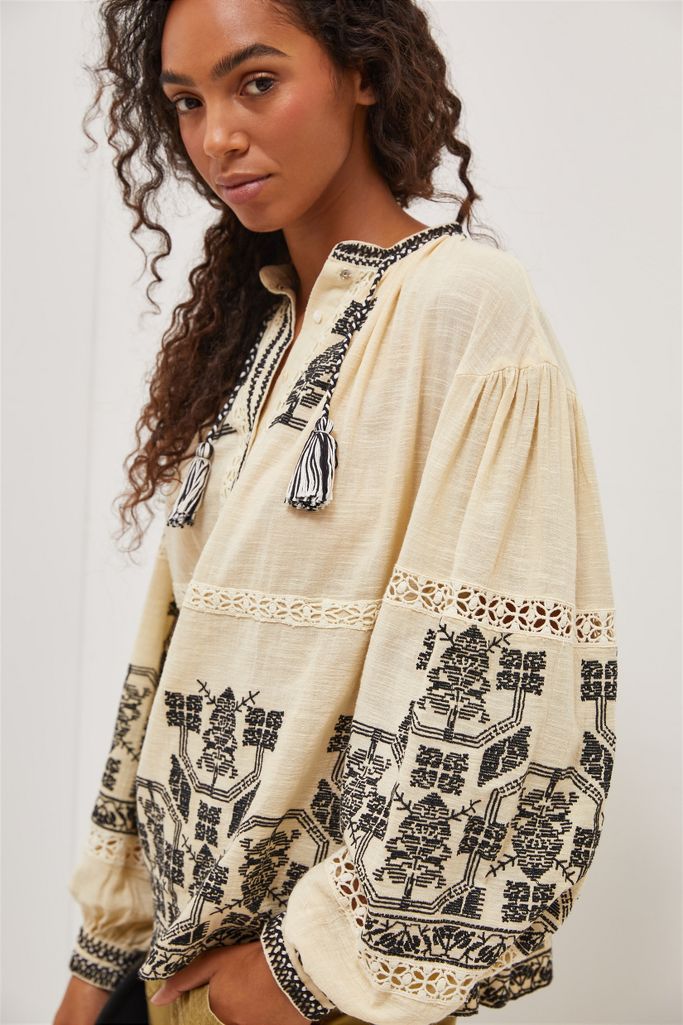 Sofia Embroidered Peasant Blouse
An embroidered peasant blouse is a wonderful way to incorporate a feminine touch into comfortable, versatile styling - no matter the season.
Dolan is the eponymous label of designer Jodie Dolan. Imbued with the laidback, effortlessly sexy vibe of her Los Angeles home base, Dolan's clothes are simple, original and confident.
| | | |
| --- | --- | --- |
| | | |
| Laney Polka Dot Maxi Dress | Magalie Scoop-Neck Tee | Beth Cropped Flare Pants |
| With puffed sleeves and a preppy polka dot motif, this maxi dress brings your springtime wardrobe to life - and connects the dots to your next style statement. | Rayon, spandex | An eye-catching print and a flared silhouette make this cropped pair a stylish match for your collection of sweaters and blouses. |
Born in South Korea and based in Los Angeles, Jasmine Ko draws inspiration for her designs from across the globe, but especially Brooklyn, the place for which her label is named. Like that beloved borough, Sunday in Brooklyn's pieces are casual yet refined, ready for an afternoon in the park or a night in the city.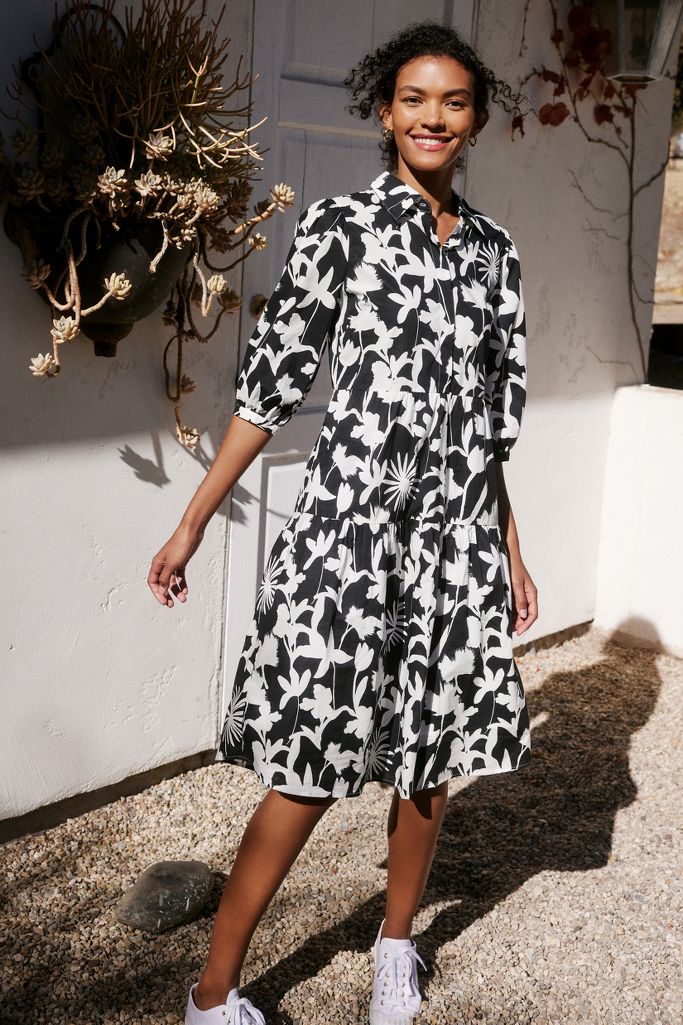 Darla Midi Dress
With a striking monochromatic motif, this shirtdress delivers endless polish and femininity - enhancing your wardrobe with one easy-to-wear fit.
Husband-and-wife duo Angela and Jim left their California home and embarked on a year-long trip seeking adventure. What they found was their life's mission - to design exquisite, unlike-anywhere-else accessories crafted by Balinese artisans. Cleobella, named after Angela's mother, is a sophisticated yet delightful collection of handmade goods woven from fine leathers, recycled materials, and fabrics acquired from local Indonesian markets.
Antonia Buttondown
Sunshine or snowfall, we can't stop dreaming about this easy-breezy buttondown - its carefree feel is a perfect match for distressed denim or a bohemian skirt.
At once youthful and mature, dRA blends the artful rebellion of cutting-edge design with the tailored elements of time-tested fashion for a line of versatile and feminine silhouettes. Founded by Diana Ra, the independent line offers a curated everyday collection.
| | |
| --- | --- |
| | |
| Sarabeth Puff-Sleeved Coat | Jasmine Jumpsuit |
| A stylish coat is the centerpiece of any cold-weather wardrobe. Dressy enough to top festive dresses, yet practical enough to wear all week, this puff-sleeved rendition will earn you plenty of compliments. | Creating a striking look that goes beyond a simple dress or two-piece combo, this all-in-one wonder can be dressed up with heels and a clutch or, for a more casual take, styled with sneakers. |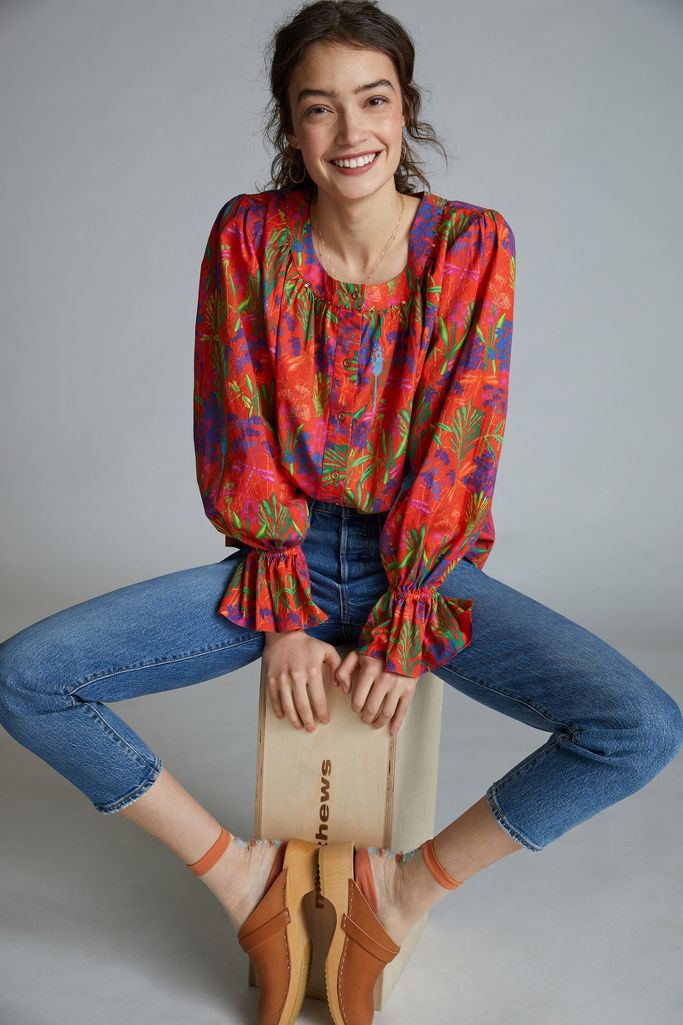 Carla Embroidered Blouse
With beaded embellishments and an oh-so-striking print, this blouse is equal parts stylish and sophisticated.
Go to:
Add Global Luxury to your favorites