Contemporary Separates
Contemporary loungewear that's dressed enough to go out. Easy dressing options for your busy lifestyle. Go to: Unreal Fur, Find Me Now, Scotch & Soda, Dhruv Kapoor, Harshman, Verb by Pallavi Singhee, 525, Velvet by Graham & Spencer, Kimonos, Paige, DL1961

Meadows
Drawing inspiration from history and folklore, Meadows fuses old-world sophistication with modern colors and cuts. Founded by Australian designer Louise Markey, the label offers romantic, feminine pieces that are crafted with sustainably sourced fabrications in a fair work environment.
| | | |
| --- | --- | --- |
| | | |
| Sunshine Wool Sweater | Victoria Botanical Sweater | Embroidered Wool Sweater |
| With a striking motif and an oh-so-cozy knit finish, this sweater - crafted from Responsible Wool Standard wool - lends luxury and charm to your seasonal closet. | Crafted from a so-soft blend of organic cotton and cashmere, this darling sweater features a botanical motif for a dash of romance and sophistication. | Crafted from warm wool with dainty embroidered florals, this sweater will be a layering favorite now and forever. Wear it with a collared blouse for a preppy look, or opt for denim and western boots for a ranch-inspired ensemble. |
Since its start in 2011, Unreal Fur has created vegan faux fur outerwear with a sophisticated look and high-end feel. The Melbourne-based brand's coats, jackets, and accessories are ethically sourced and cruelty-free - the ideal blend of social responsibility and cozy, luxurious style.
In a refurbished church along the canals of Amsterdam, the creatives at Scotch & Soda share the latest poems, artifacts and treasures that have sparked their imaginations. Inspired by worldly wonders, each global collection fuses unexpected patterns with classic textiles, resulting in the brand's signature era-mixing style.
Crafted from all-natural fibers, Harshman designs are ethically manufactured with the modern woman in mind. Simple silhouettes in of-the-moment patterns are curated to create a timeless, sophisticated collection of must-have garments.
| | | |
| --- | --- | --- |
| | | |
| Puff-Sleeved Cut-Out Blouse | Puff-Sleeved Blouse | Button-Back Blouse |
| Cotton | Style this dainty buttondown with tailored trousers or a go-to mini for a sweetly sophisticated ensemble. | Laidback yet refined, this blouse infuses everyday looks with modern sophistication. Balance its elevated feel with relaxed jeans and platform sandals or slides. |
Roopa Pemmaraju
There's a story behind each print in designer Roopa Pemmaraju's namesake fashion line: Each is created by, and named for, renowned indigenous Australian artists and manufactured using environmentally friendly, fair-trade practices. For Roopa, creating her line is a celebration of cultural exchange, creative collaboration and sustainability.
With a name inspired by movement, Verb by Pallavi Singhee has designed breezy, romantic pieces since 2007. Each billowy blouse and dramatic maxi dress is expertly woven before undergoing a dying process that evokes a tempera-like wonder. The embroidered finish is unique for each piece, ensuring a head-turning statement that is wholly your own.
| | | |
| --- | --- | --- |
| | | |
| Floral Tiered Midi Skirt | Agneza Lace Maxi Dress | Appliquéd Maxi Dress |
| Cotton, polyester | Featuring an abundance of intricately embroidered lace, this maxi grants your seasonal closet a bohemian-inspired flourish. Its playful open-back detail makes for effortless sweetness and style, ensuring you'll draw the eye of all you chance to meet. | Cotton |
Jenny Graham and Toni Spencer's Velvet collection makes it possible to curate a modern, stately wardrobe infused with the casual-cool allure of weekend-ready fabrics and shapes. Every piece showcases the duo's ability to elevate and improve classics and staples, and each is meticulously crafted in a range of clean, feminine silhouettes.
Aptly named, cocoon kimonos wrap around you for a cozy, stylish fit. Inspired by classic loungewear, this silhouette is an easy-to-add topper, adding a bohemian elegance to your look. Whether you're layering it over your workweek attire or pulling it over your tee on a Sunday morning outing, this floral kimono integrates stylishly into your daily routine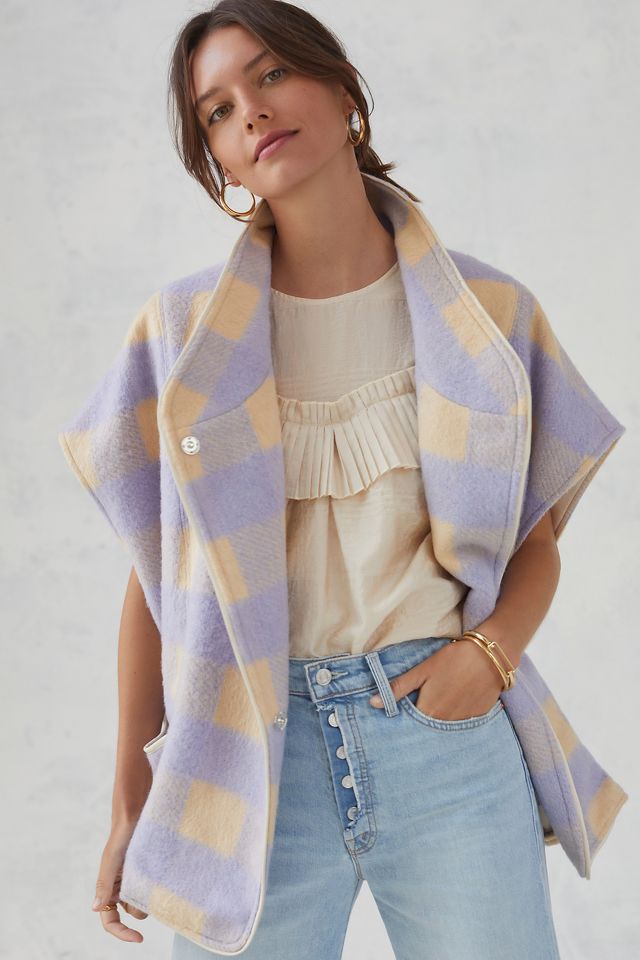 Plaid Capelet
Equal parts cozy and structured, this layer is perfect for cooler days and evenings - we love how it adds a touch of preppy cool to any ensemble.
As the only female founder in the American denim industry, Paige Adams-Geller has been breaking boundaries since she launched her line in 2004. Anyone who's ever worn her jeans won't be surprised to learn that she first entered the fashion world as a fit model - each pair is flawlessly tailored and wear-tested for an optimally comfortable, flattering fit.
DL1961 offers innovative, technologically advanced denim in of-the-moment, iconic silhouettes. Hand-finished in NYC and woven with eco-friendly practices that use half the dye and water of traditional denim fabrications, their fits are designed to lift, sculpt, and lengthen legs.
Founded in 2013, Dhruv Kapoor's eponymous label weaves empowerment, revolution, and transformation into every piece by juxtaposing design and attention to detail.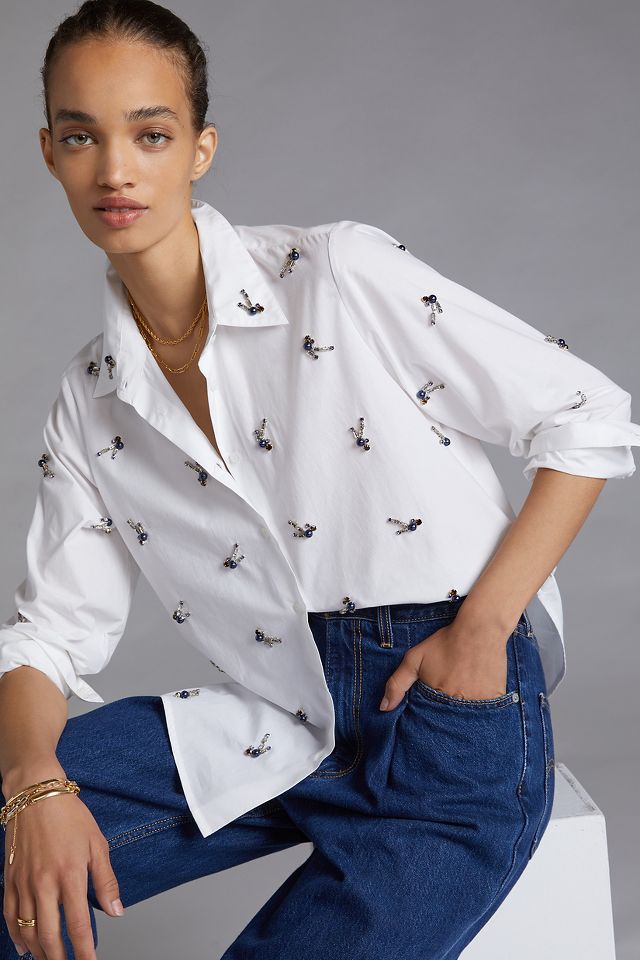 Sequined Buttondown
This summer, find your flair in a fabulously embellished buttondown. Adorned with shimmering sequins, this one brings an elevated twist to slim jeans and sandals.
Go to: