Island Style Children's Bedding
Island style children's bedding for toddlers through their teen years. Creative sets that make decorating a breeze. Select from a wide assortment of bedding sets and add your own personal touches. Select from: Nautica Kids, Crayola, Urban Habitat Kids, Urban Playground, Mi Zone
Dream Factory
Magical Princess Toddler Comforter Set
Magical Princess Twin Comforter Set
Butterfly Microsculpt Comforter Set, Twin
Butterfly Microsculpt Comforter Set, Full
Tie Dye Dot Plush Comforter Set, Twin
Your little girl will feel like a fairy princess with this magical Princess Toddler bedding set! the ultra soft comforter and sham feature an allover design of castles, crowns, stylized flowers, hearts, magic wands and fairy princesses. The comforter reverses to solid pink.
Perk up your toddler's bedroom with fluttering butterfly friends on a coordinating comforter and sham. The microsculpt fabric offers a no fuss textured technique that lasts wash after wash. The butterflies come to life the closer you get and have a feel that your little one can touch.
Have your little one dreaming in color with our tie dye dot plush comforter set. They will love the tie dye print and plushness of this bedding. This gradient printed comforter and coordinating sham is pink, purple, aqua and white for the ultimate burst of color in a girl's bedroom.
Dream Factory Under Construction Bed in a Bag, Full
Under Construction Bed in a Bag, Twin
Dream Factory Flamingo Twin Comforter Set
Sweet Butterfly Twin Comforter Set
Beep, beep it's time for sleep. After a long day of your little one playing and exploring, it's time to tuck them in and rest. This under construction set will liven up your toddler's bedroom and fulfill their big truck dreams. They will be excited to jump into this 100% microfiber comforter set.
Add a fun tropical feel to your child's room with this delightful Flamingo bedding ensemble! The comforter and shams feature bright pink flamingos on a light blue ground, accented by floral and paisley motifs. The ultra soft comforter and sham reverse to a solid light blue.
Butterflies are all a flutter with this Sweet Butterfly complete bedroom ensemble! The ultra soft comforter and sham feature an allover pattern of random flowers and large-scale butterflies.
| | | |
| --- | --- | --- |
| | | |
| Nautica Kids Surf the Waves Bedding Set | Kids Letters Bedding Set | Nautica Kids Colorblock Bedding Set |
| Bring the fun nautical sport into your bedroom with the young, colorful Nautica surfing motif. This surfing inspired bedding set, features a colorful accented all-cotton comforter. A matching whimsical sheet set, featuring colorful surfboards. A Nautica Logo decorative bed pillow, to add to the nautical feel. | A nod to the whimsy, this Nautica Letters motif is a playful multicolor pattern for kids bedrooms. The all cotton comforter has reverse back with coordinate stripe to give this bedding set a touch of refreshing color, two matching sheet sets helps keep the look fresh, and two matching fun decorative pillows adds an extra layer of personality and fun to this bedding set. | Refresh the look of your room with a crisp Nautica Colorblock Marine Blue comforter, featuring Nautica's signature logo for today's styling. The reverse side of the all cotton comforter transforms to a coordinate color to make this a unique reversible color option. This bold cotton comforter, matches perfectly with the madras plaid sheet sets. This bedding set offers a bold upgrade to any kids bedroom. |
| | | |
| --- | --- | --- |
| | | |
| Kids Anchor Print Bedding Set | Nautica Kids Sailboat Blueprint Bedding Set | Flag Stripe Bedding Set |
| Add a fun nautical flair to your bedroom with the Nautica Kids Anchor Bedding Set. The crisp bold colors of anchor and sailing designs, printed on fine cotton comforter, a bold matching sheet set, and a fun nautical inspired beach umbrella decorative pillow, makes this a stylish addition to a fun kids bedroom. | Bring a classic nautical touch to your bedroom with this Sailboat Blueprint inspired bedding set. The comforter features an architect's rendering of beautiful sailboats, the subtle tonal colors, printed on all cotton, reverse to fun coordinate nautical icons. The stripe sheet set is crisp and multi-colored for a modern appeal. A matching throw pillow features a Nautica JClass sailboat, for a true nautical look. | Inspired by heritage Nautical style. A bold racing stripe makes a modern statement on the all-cotton comforter set, casual watercolor nautical design lends an artistic approach to the matching Nautica logo sheet sets, and a red decorative pillow printed with a paddle boat design completes the look of this Kids Cotton Bedding Set. |
| | |
| --- | --- |
| | |
| Nautica Kids Sailboat Bedding Set | Nautica Kids Plaid Bedding Set |
| Clean, crisp sketched sailboat design mixed with nautical stripe and checker flags for today's classic bedroom. The all cotton quilt, has coordinate blue checker print back, making this a completely reversible option. The matching shirting-stripe sheet set, has tonal nautical icons. The matching throw pillow, has Peace and Love icons, to inspire peace and love. | Colorful madras patchwork squares mixed with Nautica logo prints, offers and updated classic approach to a quilt bedding set. The all cotton quilt has reverse back with small nautical icons on navy ground. The matching sheet set features bold colors and a coordinate logo printed cuff. The matching throw pillow features exciting bright colors. This quilt set is sure to please your loved ones, and the cotton fabric will keep them comfortable for many nights. |
| | | |
| --- | --- | --- |
| | | |
| Crayola Four Wheelin' Luxury Duvet Set | Crayola Take Flight Luxury Duvet Set | Crayola Eloise Luxury Duvet Set |
| The Bright and playful Crayola Four Wheelin Comforter Set features crashing and racing monster trucks that will jumpstart your child's creative engine. | Bring home a playful and refined style to your child's bedroom with the Take Flight Comforter Set from Crayola. This set features vintage planes that fly high through the clouds to propel one's adventurous imagination. | Sassy splashes so pretty in pink artfully mark this fabulously feminine floral bedding set complete with coordinated throw pillows and shams. |
| | | |
| --- | --- | --- |
| | | |
| Crayola Monster Friends Duvet Set | Crayola Mixed Palette Luxury Duvet Set | Crayola Splat Luxury Duvet Set |
| Bright and artistic, this Modern Meadow 6-piece duvet cover set will bring a fresh touch to your room. Attractive and cozy, this comforter set is the perfect choice for your bedroom. | Chalky pastel hues rule in this sketchy yet classic chevron patterned bedding set complete with coordinated throw pillows and shams. | Bold drips of color splashed and splattered inspire the abstract impressionist in all of them in this bright bedding set complete with coordinated throw pillows and shams. |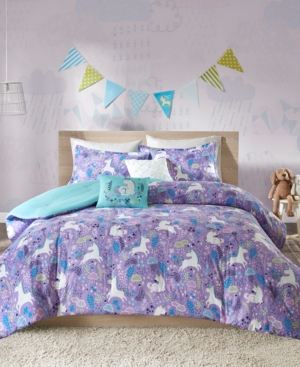 Lola Coverlet Set
Fill your bedroom with the sweet and whimsical charm of the Kids Lola comforter set from Urban Habitat, featuring cotton fabric and embroidered details for a magical finishing touch.
| | | |
| --- | --- | --- |
| | | |
| Choo Choo Charlie Reversible Comforter Set | Dinosaur Dreams Reversible Comforter Set | Sealife Reversible Comforter Set |
| The Kids Choo Choo Charlie reversible comforter set from Mi Zone features a patchwork of automobiles, bicycles, planes and trains atop a blue ground, making it the perfect choice for the young transportation enthusiast. | Add some prehistoric fun to your room with the Kids Dinosaur Dreams reversible bedding collection from Mi Zone, complete with outline quilting on the comforter and a plush appliqué on the sham for added texture. | The Kids Sealife reversible comforter set from Mi Zone features colorful cartoon whales, octopuses and submarines, set against calming blue and white stripes for a child-friendly nautical theme. |
| | | |
| --- | --- | --- |
| | | |
| Crazy Daisy Coverlet Set | Alicia Twin 6 Piece Rainbow with Metallic Printed Stars Complete Bed and Sheet Set | Andes Twin 3 Piece Printed Llama Comforter Set |
| It's springtime everyday with the Crazy Daisy coverlet set from Mi Zone. This fun collection uses blue, pink, yellow and green tones atop a white ground to highlight the flowers and butterflies throughout the top of the bed, while a plush decorative pillow and one sham provide the perfect finishing touches to this collection. | Bring a whimsical charm to your child's bedroom with the Mi Zone Kids Alicia Rainbow with Metallic Printed Stars Complete Bed and Sheet Set. An adorable rainbow and gold metallic star print adorns the pink comforter and sham for a cute and playful look. | The ultra-soft base fabric features an adorable llama motif on the comforter. A solid reverse complements the top of the bed, while matching sham(s) with a 1-inch flange repeat the pattern of the comforter to create a fun coordinated look. An embroidered decorative pillow also showcases a llama, providing the perfect finish touch. |
| | |
| --- | --- |
| | |
| Bonjour Reversible Comforter Set | Fluttering Farrah Coverlet Set |
| The Kids Bonjour reversible comforter set from Mi Zone features a white ground and pink accents, making it the right choice for injecting color in a child's room. | Bring your favorite garden creatures inside with the Kids Fluttering Farrah coverlet set from Mi Zone, featuring vibrant flowers, butterflies and ladybugs printed on a white background for a colorful pop. |
| | | |
| --- | --- | --- |
| | | |
| Daphne Reversible Comforter Set | Urban Playground Coty Grey Twin Quilt Set - 2 Piece | Urban Playground Ayer Full/Queen Quilt Set - 3 Piece |
| For refreshing bedroom style with a fun-loving feel, choose the colorful stripes and bold hearts of this Daphne reversible comforter set from Urban Playground. | Tuck your little star in with the Coty quilt. Star quilting pattern in Gray. Solid quilt to complete your existing bedding or stand on its own. All fabric super soft poly. Fill is all polyester. | Classic style in a cozy quilt. Grid quilting in red reversing to blue. Solid quilt to complete your existing bedding or stand on its own. All fabric super soft poly. Fill is all polyester. |
Go to:
Add Global Luxury to your favorites