Global Bedding
Global bedding for an unexpected escape in the comfort of your own home. Select from a range of colors and patterns from casual to luscious ivory and gold decadence. Go to: Martha Stewart Collection, City Scene

| | | |
| --- | --- | --- |
| | | |
| Poinsettia Embroidered Quilt, Shams | Artisan Holiday Quilt Collection | Diamond Tufted Velvet Quilt, Shams |
| Radiant in red. The Poinsettia Embroidered quilt from the Martha Stewart Collection offers a festive embroidered poinsettia look, great for bringing cheer to any room. | Quilts have always been one of Martha's favorite bed linens because they are prized not only for their beauty but also for their versatility. Steeped in tradition, these unique, hand-sewn quilts are especially crafted with patience and attention to detail. | Styled in rich velvet with elegant tufted accents, the diamond tufted velvet quilt from Martha Stewart Collection adds a luxe look and feel to any room's decor. |
| | | |
| --- | --- | --- |
| | | |
| 4-Piece Quilt Bag Set | 4-Piece Quilt Bag Set | 4-Piece Quilt Bag Set |
| Add cozy comfort to your bedroom with the Fair Isle Essential quilt bag sets from Martha Stewart Collection, featuring a pinsonic diamond quilt stitch design and a fair isle pattern atop an white ground. Featuring a solid reversible side and bold prints. | Add cozy comfort to your bedroom with one of these Holiday inspired quilt bag sets from Martha Stewart Collection, featuring a pinsonic diamond quilt stitch design. Featuring a solid reversible side and bold prints. | Add cozy comfort to your bedroom with one of these Holiday inspired quilt bag sets from Martha Stewart Collection, featuring a pinsonic diamond quilt stitch design. Featuring a solid reversible side and bold prints. |
| | |
| --- | --- |
| | |
| 4-Piece Quilt Bag Set | Cable Knit Velvet Quilt, Shams |
| Add cozy comfort to your bedroom with one of these Holiday inspired quilt bag sets from Martha Stewart Collection, featuring a pinsonic diamond quilt stitch design. Featuring a solid reversible side and bold prints. | Styled in rich velvet with elegant knitted accents, the cable knit velvet quilt from Martha Stewart Collection adds a luxe look and feel to any room's decor. |
| | |
| --- | --- |
| | |
| Metallic Paisley 3 Pc Comforter Sets | Tomorrow's Heirloom Quilt Collection |
| Elevate your bedroom with a modern take on a classic paisley print Top of Bed from Martha Stewart Collection. Featuring a reverse in the luxe cotton fabric with the same print in a darker hue to make for a sophisticated yet understated bedroom focal point. | Create a modern vintage look with the Tomorrow's Heirloom cotton patchwork quilt from Martha Stewart Collection. Featuring a rustic patchwork design and a timeless countryside floral reverse in a luxe cotton fabric. |
| | | |
| --- | --- | --- |
| | | |
| Percale Gray Plaid Reversible 3-Piece Comforter Set | Heather Plaid Flannel Quilt, Shams | Artisan Log Cabin Quilt Collection |
| Reinvigorate your room's decor with the Percale Gray Plaid comforter set from Martha Stewart Collection, featuring a reversible gray plaid pattern printed atop a soothing cotton percale fabric. Each set includes one comforter and two shams. | Update any room with the heather plaid flannel quilt from Martha Stewart Collection, featuring a yarn dye plaid atop a soft cotton flannel fabric. Matching shams sold separately. | Add Cozy Comfort To Your Room With The Artisan Log Cabin Quilt Collection From Martha Stewart Collection, Featuring A Hand Quilted Log Cabin Design And Quality Cotton Fabric. |
| | | |
| --- | --- | --- |
| | | |
| Eloise Floral Velvet Quilt Collection | White Shop Quilt Collection | Wedding Rings 100% Cotton Bedding Collection |
| Add Elegance And Style To Your Bedroom With The Dark Ground Floral Quilt From Martha Stewart Collection, Featuring A Floral Design Atop Soft Velvet. | Sometimes, Subtlety And Simplicity Is Just What You Are Looking For! Add Classic Style To Your Bedroom With The White Shop Artisan Quilt From Martha Stewart Collection. Steeped In Tradition, These Unique, Hand-Sewn Quilts Are Especially Crafted With Patience And Attention To Detail. | An ornate wedding ring stitch adds a decorative detail to this soft white and ivory bedspread. This is sure to dress up your bedroom with its mix of velvet, satin, and soft textural fabrics! |
| | | |
| --- | --- | --- |
| | | |
| Nouveau Floral Velvet Quilt Collection | Neutral Patchwork Quilt, Shams | Floral Matelassé Bedding Collection |
| Refresh your bedroom with the regal floral Nouveau Floral quilt in a luxurious velvet from Martha Stewart Collection. Featuring a plush fringed tulip design and soft reverse. | Refine your bedroom with a modern woodland retreat inspired quilt from Martha Stewart Collection. Featuring a updated patchwork and reverse in simple vines in a luxe cotton fabric. | Sometimes, subtlety and simplicity is just what you are looking for! This bedspread has a quaint meadow floral pattern that is woven to create this solid color bedspread from Martha Stewart Collection. |
| | | |
| --- | --- | --- |
| | | |
| Embroidered Tile 100% Cotton Quilt Collection | Scallop Foliage 3 Pc Comforter Set | Printed Tile Quilt Collection |
| Bring a vibrant update to your quilt collection with this Embroidered Tile Quilt from Martha Stewart Collection! Tile pattern is made up of blue, green, and tan with fauna inspired pattern. | Refresh your bedroom with this worldly floral in rich and vibrant hued Top of Bed from Martha Stewart Collection with a scalloped wheat printed reverse in the luxe cotton. | Sophisticate your bedroom with the vintage European tile inspired Printed Tile quilt from Martha Stewart Collection. Featuring an elegant mosaic tile and arabesque scroll reverse in a luxe cotton fabric |
| | | |
| --- | --- | --- |
| | | |
| Navy Stripe Quilt Collection | Percale Yellow Peony Reversible 3-Pc. Comforter Set | Sailboat Yarn Dye Patchwork Quilt and Sham Collection |
| Update Any Room With The Blue Plaid Flannel Quilt From Martha Stewart Collection, Featuring A Yarn Dye Plaid Design Atop A Soft Cotton Flannel Fabric. | Add a touch of charming color to your room with the Percale Yellow Peony comforter set from Martha Stewart Collection, featuring a reversible printed floral pattern atop a soothing cotton percale fabric. Each set includes one comforter and two shams. | Update your bedroom in nautical blues with this true patchwork quilt! Featuring true yarn dye plaids and stripes, this Martha Stewart Collection quilt has a lot of value with a lot of style. |
| | | |
| --- | --- | --- |
| | | |
| Farmstead Floral Patchwork Quilt, Shams | Nautical Stripe Quilt, Shams | Midland Vine 100% Cotton Bedspread |
| Refresh your bedroom with the rustic charm of the farmstead patchwork cotton quilt from Martha Stewart Collection, featuring a cozy patchwork design reversing to a timeless stripe. Matching shams sold separately. | Create a new look in your room with the Nautical Stripe quilt from Martha Stewart Collection, featuring a chic yarn-dyed cotton and a striped design. | Add a sophisticated touch to any room with the Midland Vine bedspread from Martha Stewart Collection. Decorated with embroidered floral and vine patterns, the Midland Vine bedspread is made of soft-to-the-touch cotton fabric. |
| | | |
| --- | --- | --- |
| | | |
| Rustic Yarn-Dyed Stripe Cotton Quilt, Shams | Floral Bouquet Bedding Collection | Charleston Yarn Dye Stripe Quilt and Sham Collection |
| Bring some serious style and comfort to any bedding ensemble with the super-soft cotton and vibrant multicolored stripes of this Rustic reversible yarn-dyed quilt from Martha Stewart Collection. | Inspired by vintage scarves and classic embroidery, Martha Stewart Collection introduces a Floral Bouquet in a bedspread size. Bedspread border and sham are embroidered to accent this classic scarf layout! | Give your room a streamlined look with the Charleston yarn dye quilt from Martha Stewart Collection. Alternating gray, tan and blue stripes offer a sophisticated look with a soothing color palette and classic design. Matching shams sold separately. |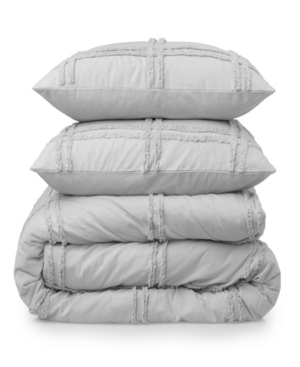 Skylar Chenille 3-Piece Comforter Set
Transform your bedroom with the inviting texture of the Skylar Chenille 3-piece comforter set. Crafted from cotton tufted chenille reversing into a cozy 180 thread-count solid cotton percale you'll cherish the inviting texture of tufted chenille for years to come.
| | | |
| --- | --- | --- |
| | | |
| Arbon Floral Comforter Sets | Domain Duvet Cover Bonus Sets | Sokal Bedding Collection |
| For the fashion forward, the Arbon Floral collection from City Scene is a must have. Classic black floral on white, with pops of trendy green. The perfect bedding to carry you through from season to season. | Comfort is key when creating your personal space and nothing is more comfortable than soft, washed cotton percale. This stylish solid color reversible bedding is modern in its simplicity and relaxed in attitude. | Update your bedding with the City Scene Sokal bedding set. With it's bold, ink dripped print in indigo, Sokal is sure to give you the look of an artist's studio without the mess. |
Payson Floral 3 Piece Duvet Cover Set
Tronka Stripe Bedding Collection
Milan King Comforter Set
Milan Full/Queen Comforter Set
For the fashion forward, the Payson Floral collection from City Scene is a must have. Beautiful modern stamped floral design in white and trend-forward sea foam green is an instant bedding upgrade.
Update your bedding with the City Scene Tronka stripe bedding set. This soft gradient color block, in livable shades of gray, is the perfect way to modernize your space with a subtle print.
Bring chic, vibrant style to your bedroom décor with this Milan Bedding ensemble from City Scene. In soft cotton, a beautiful paisley dances across this lively bedding, and reverses to a foulard print in complimentary colors for an alternative look.
Go to:
Add Asia Africa Pacific to your favorites