Island Style Bath for a Soothing Home Spa
Bathroom towels and accessories to add the perfect finishing touches to your master suite escape, powder room or guest bath. Choose from: Tropical and Seaside Bath Towels, Tropical and Island Style Bathroom Accessories
| | | |
| --- | --- | --- |
| | | |
| Avanti "By the Sea" Towels | Avanti Bath, Sequin Shells Bath Towels | Avanti Bath Towels, Antigua |
| Transform your bathroom into a beach-side escape with the Avanti By the Sea towels. Featuring patterns filled with sea shells and starfish, this tranquil towel collection will add relaxing tones to any bathroom ensemble | Evoke the coastal vibes of a beachy, seaside retreat with the Sequin Shells bath towel from Avanti in a soothing aqua hue with embroidered starfish trim. | Bring a touch of old world charm to your bath space with this Antigua bath towel from Avanti. Features beautiful shells accented by pretty beading all in soft blue and natural tones for a refreshing presentation |
| | | |
| --- | --- | --- |
| | | |
| Bacova Coastal Moonlight Cotton Printed Bath Towels | Multi-Bacova Ocean-Bath Towel | Avanti Nantucket Bath Towel Collection |
| For refreshing beachfront style, choose the beautifully-detailed seashell and coral graphics of this Coastal Moonlight bath towel from Bacova to accent your bathroom's decor. | Embroidered with a classic seashore design, these towels will be a beautiful addition to your bathroom. | There are plenty of fish in the sea. Swim into a serene beach haven with these Nantucket bath towels inspired by the resort island of the same name. Features enchanting silver fish on a cool blue backdrop for a soothing presentation. |
| | | |
| --- | --- | --- |
| | | |
| Sparkle Shell 6-Piece 100% Cotton Bath Towel Set | Sparkle Shell 6-Piece 100% Cotton Bath Towel Set | Coastal Shell 6-Piece 100% Cotton Bath Towel Set |
| Sparkle shell towels are the ultimate accent to any decor as well as the perfect meeting of function versus fashion. The towels are soft and absorbent providing everything you need in a towel and the ribbed body, wide cuff shell border, and the beautifully classic colors provide the fashion. | Sparkle shell towels are the ultimate accent to any decor as well as the perfect meeting of function versus fashion. The towels are soft and absorbent providing everything you need in a towel and the ribbed body, wide cuff shell border, and the beautifully classic colors provide the fashion. | The Coastal towel range is made of 100% cotton. The beauty of the textured popcorn body and wide jacquard shell border will add style and class to any decor. These towels are as absorbent as they are attractive a perfect match of beauty meets utility. |
Avanti Seaside Bath Accessories
Avanti Riviera Bath Towel
Avanti Riviera Hand Towel
Avanti Sequin Shells Bath Towel Collection
Enhance your bath with the summery, coastal style of the Seaside Vintage Cotton bath towel from Avanti. An embossed seahorse, coral, starfish, and shell design adorns this soft velour piece with a woven aqua border.
The Avanti Riviera Hand Towel is adorned with an embroidered fan shell, nautilus and coral in neutral shades on a 100% cotton velour towel. The look is completed with a coordinating multi-colored textured border.
Bring home the beach chic of the Avanti Sequin Shells bath towel collection. Appliquéd starfish, embellished with sparkly stitching, accent soft sheared cotton velour in a calming seaworthy shade.
| | | |
| --- | --- | --- |
| | | |
| Destinations Toucan Bath Collection | Deco Shells Bath Towel Collection | Peri Capri Medallion Bath Collection |
| A tropical oasis is sure to enhance your bathroom with the Destinations Toucan Bath Collection. The printed shower curtain is adorned with toucans, palm trees and tropical flowers. Complete the look with the coordinating bath rug, shower curtain hooks, and towels. | The Avanti Deco Shells Bath Towel features an embroidered band of coordinating gold shells on a tonal fabric attached to a 100% cotton ivory velour towel. The band is finished with a coordinating rope trim. | Peri does bathroom style particularly well, and the Capri Medallion collection is no exception. With an intricate pattern, and a mix of the perfect shades of blue, this collection is the fastest way to make a statement. |
| | | |
| --- | --- | --- |
| | | |
| Dream Beach Shells Bath Collection | Crab Stripe Bath Collection | Spice Palm Bath Collection |
| This Laural Home Dream Beach Shells Bath Collection features finely drawn shells and coral are scattered among bubbles to create this stylish coastal pattern that is perfect for your bathroom | Classic navy blue nautical stripes serve as the background to a coral-colored crab for a simple yet fun coastal look with the Laural Home "Crab Stripe Bath Collection" | Accent your nautically themed bathroom with the Laural Home "Spice Palm" Bath Collection . This collection features palm trees and a coral border to bring the seaside into your home. |
| | | |
| --- | --- | --- |
| | | |
| Botanical Flamingo Bath Collection | Coronado Bath Collection | Seaside Postcard Bath Collection |
| A pink flamingo stands among a scrapbook collage of beautiful flowers. The vibrant colors in our Botanical Flamingo Bath Collection are sure to brighten and energize any bathroom | Give your space the peaceful look and feel of a beautiful beachfront resort with the ocean-inspired designs, tranquil tones and sparkling rhinestone accents of this Coronado bath collection from Avanti. | Bring an exotic touch into your bathroom with the lovely Laural Home "Seaside Post Card" Bath collection . Its charming nautical theme is digitally printed to deliver bright colors and a clear design for an elegant visual effect. |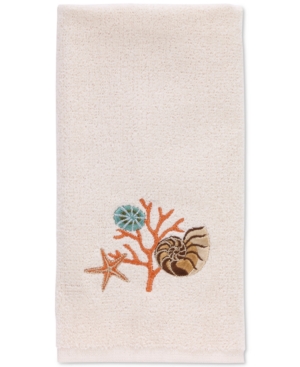 Seaside Bath Towels and Accessories
Enhance your bath with the summery, coastal style of the Seaside Bath Accessories from Avanti. Intricate fish, coral, and shell designs are rendered in neutral, spice, and aqua tones in this vintage-inspired collection.
| | | |
| --- | --- | --- |
| | | |
| Labrazel Capiz Bath Accessories | Blue Heron Wall Art | Labrazel Capiz Champagne Bath Accessories |
| Natural Capiz shell has a distinctive textured surface that reflects light beautifully. The coloring is completely natural and includes a wide range of shimmering white, oyster and ivory tones. A durable coating of clear acrylic protects each piece. | Ruti Shaashua's background in textile design influences her kaleidoscopic works, often drawing inspiration from vivid Indian fabrics. Symmetrical patterns and repeating prints create lively scenes bursting with color on each mesmeric painting. | Natural Capiz shell has a distinctive textured surface that reflects light beautifully. For this collection, the shell is tinted in a soft champagne taupe. A durable coating of clear acrylic protects each piece. |
| | | |
| --- | --- | --- |
| | | |
| Labrazel Poisson Bath Collection | Priscilla Rattan Tray | Capri Bath Accessories |
| Designer Alexa Hampton reimagines the timeless fish scale pattern in shimmering natural hammershell. The shell is pieced by hand on solid resin and protected with a satin acrylic finish. | Perfect for placing in your entryway or atop your vanity, this boho-femme rattan tray features a basket-woven construction with scalloped loop edges framing the ovular dish. | Made of inlay shell and stone. |
| | | |
| --- | --- | --- |
| | | |
| Pigeon & Poodle Handa Bath Collection | Pigeon & Poodle Handa Bath Collection | Pigeon & Poodle Handa Bath Collection |
| The subtle shimmer of capiz shell set in a classic herringbone pattern lends a touch of glamour to the Pigeon & Poodle Handa bath accessories collection. | The subtle shimmer of capiz shell set in a classic herringbone pattern lends a touch of glamour to the Pigeon & Poodle Handa bath accessories collection. | The subtle shimmer of capiz shell set in a classic herringbone pattern lends a touch of glamour to the Pigeon & Poodle Handa bath accessories collection. |
| | | |
| --- | --- | --- |
| | | |
| Avanti Bath, Sequin Shells Accessories Collection | Priscilla Rattan Catch-All Dish | Avanti Bath Accessories, Antigua |
| Evoke the coastal vibes of a beachy, seaside retreat with the Sequin Shells bath accessories collection from Avanti, featuring embossed seashells & starfish for an ethereal display. | Give your little bits and bobs the perfect basket to rest in with this rattan catch-all dish. Featuring a basket weave in a round design with a flat base and looped scalloped edges for a boho-femme touch. | Bring a touch of old world charm to your bath space with this Antigua collection from Avanti, featuring beautiful embossed shells with nautical and script motifs. Soft blue and natural tones finish the look for a refreshing presentation |
| | |
| --- | --- |
| | |
| Bayshell 3-Pc. Accessory Set | Avanti Bathroom Accessories, Colony Palm Collection |
| Complete the look of any bathroom with the beautiful Bayshell accessory set, featuring one lotion pump, one vanity tray and one toothbrush holder. Each set comes in a gift box. | The tropical motif and soothing neutrals of the Colony Palm collection will bring stylish ease to your bathroom, featuring palm tree accents and textured details. |
Go to:
Add Global Luxury to your favorites